FSB reveals declared goals of Ukrainian commando raid on Crimea
Security forces captured a saboteur trying to enter the Russian peninsula from the sea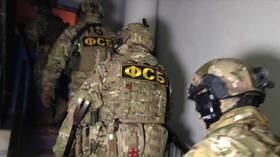 One of the Ukrainian commandos whose attempt to infiltrate Crimea by sea was foiled by the Russian Air Force has been apprehended, the Federal Security Service (FSB) reported on Wednesday. The saboteur told the agency that the group's goal was to take photos and videos against the backdrop of the Ukrainian flag on the territory of the Russian peninsula.
During interrogation by the FSB, he claimed that the Ukrainian unit, consisting of 16 people, departed from Vilkovo, a town in Odessa Region, using high-speed watercraft, such as boats and water scooters.
According to the Russian Defense Ministry, Kiev's landing group was heading toward Cape Tarkhankut on the western edge of Crimea. A Russian naval base and several airfields are located on the peninsula.
A drone attack preceded the attempted landing of Kiev's commandos in Crimea. On Wednesday night, Sevastopol Governor Mikhail Razvozhayev reported that parts of a Ukrainian drone had landed on the roof of an apartment building.
In recent months, the Ukrainian military has stepped up its missile and drone attacks on Crimea. According to the Russian Defense Ministry, Ukraine hit a shipyard in Sevastopol a few weeks ago with cruise missiles, damaging two warships. Several days later, Ukrainian missiles struck the Russian peninsula again, hitting the Black Sea Fleet headquarters in Sevastopol.
On Tuesday, the Russian Investigative Committee accused Ukraine's spy chief, Kirill Budanov, and three other senior members of the Ukrainian military of launching drone attacks on civilian targets. The agency claims that Ukrainian officials are the masterminds of more than 100 "terrorist attacks" involving drones.
You can share this story on social media: