Zelensky names battalion after 1930s fascist sympathizer
A Ukrainian unit was bestowed with the title 'Evgeny Konovalets' to mark a national military holiday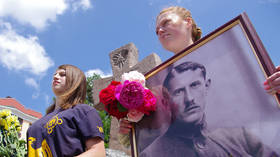 Kiev has renamed a military unit in honor of Evgeny Konovalets, the fascist sympathizer who led the Ukrainian nationalist insurgency in Poland during the 1920s. The 'honorary title' was bestowed by President Vladimir Zelensky last week.
According to a presidential decree published by Zelensky's office, the 131st reconnaissance battalion of the army was given its new name as part of events connected with the Day of Defenders of Ukraine, which was marked on Sunday.
Konovalets is one of numerous historical figures who have been lionized in modern Ukraine for their roles in fighting for an independent nation state. A Galician-born veteran on the Austro-Hungarian side in World War I, he was peripherally involved in the short-lived secessionist Ukrainian People's Republic in the late 1910s.
In 1920, Konovalets moved to Czechoslovakia, where he and other Ukrainian nationalists with combat experience founded the Ukrainian Military Organization (UVO), a paramilitary organization that was involved in the armed fight in what is now Western Ukraine.
The insurgency conducted assassination attacks against Polish officials, as well as supposed Ukrainian collaborators who supported Warsaw's sovereignty over Galicia. The UVO existed until 1929, when it merged with other radical nationalist and fascist groups into the Organization of Ukrainian Nationalists (OUN). Then based in Switzerland, Konovalets served as its first leader.
The UVO's terrorist activities against Poland were partially financed by Germany's Abwehr military intelligence. Konovalets maintained contact with various fascist organizations in Europe and personally met Adolf Hitler in the early 1930s. According to papers published later, Konovalets expressed skepticism about the German Nazi leader in private communications with fellow nationalists.
Konovalets was assassinated in Rotterdam in 1938 by a Soviet intelligence agent. The OUN allied itself with Nazi Germany during World War II in the hope of creating a Berlin-backed Ukrainian state.
On Sunday, Russian Foreign Ministry spokeswoman Maria Zakharova called Zelensky's decree "yet more confirmation of the Nazi nature of the Kiev regime."
Kiev's elevation of controversial figures was further highlighted last month, when Zelensky joined the Canadian parliament in giving a standing ovation to Yaroslav Hunka, a 98-year-old veteran of a Nazi Waffen-SS unit. Parliament Speaker Anthony Rota, who had invited the Ukrainian-Canadian Hunka to the chamber, stepped down from his position last week after taking full responsibility for the incident.
You can share this story on social media: