Canada's Trudeau apologizes for honoring Ukrainian Waffen SS Nazi
Although he offered "unreserved apologies" for applauding the guest, the PM blamed the incident on the former speaker of parliament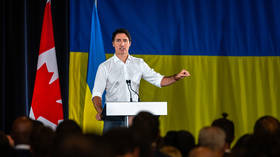 Canadian Prime Minister Justin Trudeau has apologized for applauding a Ukrainian Nazi veteran at a ceremony in parliament last week, calling the scene "deeply embarrassing for parliament and Canada."
Speaking to reporters before addressing the Canadian House of Commons on Wednesday, Trudeau offered "parliament's unreserved apologies for what happened on Friday," referring to the standing ovation given by Canadian lawmakers – Trudeau included – to 98-year-old Yaroslav Hunka.
At an event with Ukrainian President Vladimir Zelensky, Hunka was introduced by House Speaker Anthony Rota as "a Ukrainian hero, a Canadian hero… who fought for Ukrainian independence against the Russians" in World War II.
Rota resigned on Tuesday after media outlets realized that Hunka had fought with the 14th Waffen Grenadier Division of the SS, a Ukrainian unit formed by the Nazi regime in 1943 that is known to have committed atrocities against Jews and Poles on the Eastern Front.
Trudeau initially referred to the incident as "embarrassing," but did not apologize directly or join the calls for Rota's resignation. Speaking on Wednesday, the PM attempted to distance himself from Rota, a fellow member of the Liberal Party.
"The speaker was solely responsible for the invitation and recognition of this man, and has wholly accepted that responsibility and stepped down," Trudeau said.
Trudeau then said that "all of us who were in this house on Friday regret deeply having stood and clapped, even though we did so unaware of the context."
Despite Trudeau claiming to have been unaware of Hunka's membership in a Nazi unit, Rota's description of him as a Ukrainian who "fought the Russians" in the Second World War could only have applied to someone fighting on the side of Nazi Germany.
"It was a horrendous violation of the memory of the millions of people who died in the Holocaust, and it was deeply, deeply painful for Jewish people," Trudeau said of the ceremony. "It also hurt Polish people, Roma people [and] 2SLGBTQI+ people," he continued, using a term for gays, lesbians, and other sexual minorities.
The Canadian PM's apology came amid fierce condemnation from Russia, Poland, and Jewish groups like the Toronto-based Friends of Simon Wiesenthal Center, which described Hunka's wartime unit as "responsible for the mass murder of innocent civilians with a level of brutality and malice that is unimaginable."
The Russian Foreign Ministry stated that the incident was "the best possible way to characterize the regime of Prime Minister Justin Trudeau, who has embraced unbridled Russophobia."
You can share this story on social media: