Zelensky visits Ukrainian Neo-Nazi leader (VIDEO)
Ukraine's president met with Azov founder Biletsky in a bunker somewhere in Donbass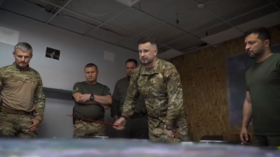 Ukrainian President Vladimir Zelensky has toured several military units reportedly posted on the Donetsk front, including the notorious 'Azov' and 'Aidar' groups. In a video posted on his social media on Monday, Zelensky can be seen meeting with Azov founder and neo-Nazi Andrey Biletsky inside what appears to be a bunker-like structure.
An official statement by his office says Zelensky visited a number of units, including the 5th Separate Assault Brigade and the 3rd Separate Assault Brigade, as part of a working visit to the "Soledar sector." The town of Soledar itself has been in Russian hands since January, and the nearby Artyomovsk (aka Bakhmut) since May.
The 3rd SAB was established in September 2022 from remnants of the original Azov battalion, mauled in the fighting for Mariupol earlier that year. Biletsky, who had vanished from the public eye in late 2019, became the commander of the "Azov Tactical Group." In a 45-second video posted by Zelensky on his social media, Biletsky can be seen briefing the president and several other officers.
Biletsky was widely recognized as a white supremacist and neo-Nazi before 'Azov' was whitewashed by Western media after the February 2022 escalation of hostilities with Russia. A January 2021 TIME magazine article described his 'Patriot of Ukraine' organization as a "neo-Nazi terrorist group," whose "manifesto seemed to pluck its narrative straight from Nazi ideology." The group would morph into "Azov volunteer battalion" as Ukraine moved to crush dissent in Donbass following the 2014 US-backed coup.
Biletsky himself told the outlet, back in 2014, that he hand-picked the symbols of Azov because they had been "used by Germans" in WWII. The Wolfsangel he chose had been on the shield of the 2nd SS Panzer Division 'Das Reich,' while the Black Sun comes from a mosaic commissioned by SS leader Heinrich Himmler for his castle.
In 2018, the Guardian described Biletsky as an "ultranationalist MP" who declared in 2010 that the mission of Ukrainians was to "lead the white races of the world in a final crusade… against Semite-led Untermenschen [subhumans]."
Halfway through the video posted by Zelensky, the camera lingers on a bearded major, whose cap has an American flag patch. That appears to be Svyatoslav 'Kalina' Palamar, who surrendered in Azovstal in May last year and was sent to Türkiye as part of a prisoner swap in September.
Last month, he and four other Azov commanders, who were supposed to stay in Türkiye through the end of the hostilities, returned to Ukraine in violation of the deal. Palamar held the rank of captain at the time but appears to have been promoted since, judging by his insignia.
Earlier in the day, Zelensky had visited the 5th SAB, established in February to include the "24th Assault Battalion Aidar." The volunteer unit of that name also fought in the Donbass in 2014 and was accused of war crimes. It was formally disbanded in 2015, after its members began terrorizing the population loyal to Kiev, and re-constituted as the 24th AB, originally assigned to the 10th Mountain Assault Brigade 'Edelweiss.'
You can share this story on social media: