Transgender ex-Ukrainian military spokesperson repeats threats to journalists
Sarah Ashton-Cirillo told Russian pranksters Vovan and Lexus that journalist Darya Dugina deserved to die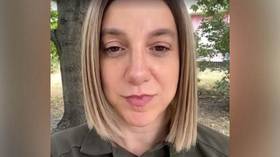 The former spokesperson for the Ukrainian Territorial Defense Forces, Sarah Ashton-Cirillo, insists that Kiev must use all the weapons at its disposal to target Russian journalists, including sabotage.
The transgender American made the comments during several calls with Russian pranksters Vovan and Lexus, who were pretending to speak on behalf of former Ukrainian President Pyotr Poroshenko.
The calls are said to have taken place before and after Kiev fired the spokesperson last week following a scandal sparked by Ashton-Cirillo's public threats to "hunt down" Russian "propagandists" around the world.
The former official told 'Poroshenko' that Russian journalists such as Vladimir Solovyov and Olga Skabeeva are "war criminals" and "terrorists" who should not be allowed to hide, while applauding the assassinations of Russian media representatives such as Darya Dugina, who was killed in a car bombing in August 2022.
Ashton-Cirillo claimed that Dugina was "evil" and "died the death she deserved," and that Russian Foreign Ministry spokeswoman Maria Zakharova should be prosecuted.
Speaking of Russia as a nation, the former speaker said that "Russians are not Europeans," and that they "come from the Mongols" and are "part of a group of people that want to be slaves and want to be led."
Elsewhere in the conversation with the pranksters, the former spokesperson revealed some issues plaguing Ukraine's forces, stating that there is a "terrible problem with foreign fighters" because they are "just a step above mercenaries."
Earlier this month, Ashton-Cirillo pressured CNN into changing one of their stories to say 'Western foreign fighters' instead of 'mercenaries'. However, despite publicly defending the foreign volunteers, the former spokesperson admitted that most of them go to Ukraine simply because they don't know anything except warfare and that many of them adhere to radical right-wing ideologies, with some openly supporting Nazism.
Ashton-Cirillo claimed that the presence of foreign fighters is proving to be a security risk and is detrimental to the morale of regular Ukrainian soldiers, explaining that the ones who do it "for the money" are more inclined to abuse drugs and do things to enrich themselves.
You can share this story on social media: