Ukraine suspends death-threat transgender military spokesperson
Sarah Ashton-Cirillo's promise to "hunt down" Russian "propagandists" caused outrage among US conservatives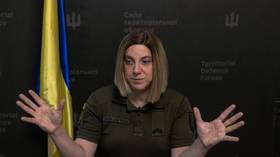 The Ukrainian Territorial Defense Forces has fired its transender American spokesperson for threatening a wave of assassinations against "Kremlin propagandists" around the world. Sarah Ashton-Cirillo's dramatic threat drew the attention of US Senator JD Vance, who asked the administration of President Joe Biden to explain if it was funding this content.
"The statements of [Junior Sergeant] Ashton-Cirillo in recent days were not approved by the command of the [Territorial Defense Forces] or the command of the [Armed Forces of Ukraine]," the Ukrainian Territorial Defense Forces said in a post on X (formerly Twitter) on Wednesday.
"Sergeant Sarah Ashton-Cirillo will be suspended immediately," the statement continued, adding that an official investigation would be launched into Ashton-Cirillo's conduct.
Ashton-Cirillo is a biological man who worked as a Democratic Party activist in the US before moving to Ukraine following the start of Russia's military operation last year. He/she was hired as the Territorial Defense Forces' English-language spokesperson in August, a decision that critics say was intended to curry favor with pro-LGBTQ Western audiences.
Last week, Ashton-Cirillo warned that "a favorite Kremlin propagandist" would "pay for their crimes," before declaring that "Russia's war criminal propagandists will all be hunted down, and justice will be served." Ashton-Cirillo did not name any specific targets or detail what manner of "justice" would be meted out.
The bizarre tirade drew condemnation from Moscow, and was publicized in the US by conservative pundit Jack Posobiec. After tweeting about Ashton-Cirillo's video, Posobiec was added to Ukraine's notorious 'Mirotvorets' kill list.
Republican Senator JD Vance took notice of the video last Friday, and wrote a letter to US Secretary of State Antony Blinken, Defense Secretary Lloyd Austin, and Director of National Intelligence Avril Haines, asking the three officials to explain whether Ashton-Cirillo was being "compensated with US resources," or previously worked for US intelligence.
"I worry American resources could be supporting violence or the threat of violence against people for speaking their mind," Vance wrote, pointing out that "any critic of America's incoherent policy in Ukraine has been slandered as a propagandist, including multiple presidential candidates and American journalists."
Ashton-Cirillo responded on Monday, stating: "I only answer to three groups of people: my Ukrainian commanders, the Ukrainian people, and the American taxpayer."
In its statement on Wednesday, the Territorial Defense Forces said that "the defense forces of Ukraine strictly observe the norms of international humanitarian law." However, Moscow has accused Kiev of orchestrating the murders of journalist Darya Dugina in August 2022 and of military blogger Vladlen Tatarsky in April this year. In July, the Federal Security Service said that it foiled a Ukrainian plot to assassinate RT Editor-in-Chief Margarita Simonyan and journalist Ksenia Sobchak.
You can share this story on social media: