First US-made Abrams tanks arrive in Ukraine – Zelensky
Moscow has repeatedly warned that Kiev's Western-supplied armor will only prolong the conflict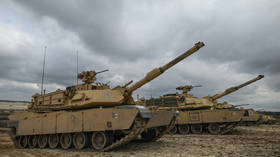 Ukraine has received the first batch of US-made M1 Abrams tanks promised by Washington this winter, President Vladimir Zelensky said on Monday, confirming a New York Times report from earlier in the day.
Writing on Telegram, Zelensky said the Abrams main battle tanks "are already in Ukraine and preparing to reinforce our brigades" while thanking Kiev's allies for their support.
The delivery was first reported by the New York Times, which cited two US defense officials as saying that the tanks arrived in Ukraine "months ahead of initial estimates." The shipment, according to the article, could help Kiev in its 'counteroffensive' against Russia, which has been going on for more than three months but has failed to gain any ground.
Neither the Times' sources nor Zelensky would say how many Abrams tanks Ukraine has received thus far. In late August, Politico reported that the US planned to deliver ten of the 31 tanks promised by President Joe Biden in late January by mid-September.
The version that Ukraine will now be able to use in combat is an older M1A1, which lacks some of the more advanced features, but will come with depleted uranium shells that have high armor-piercing capabilities. The controversial munitions, however, are said to pose serious health risks, including cancer and birth defects.
Additionally, Kirill Budanov, the head of Ukraine's Main Intelligence Directorate, suggested last week that Abrams tanks should only be used in "very specific, well-crafted" breakthrough operations, warning that Russian forces will quickly knock them out if Kiev fails to do so.
Kiev has already deployed Leopard and Challenger tanks to the battlefield provided by Germany and Britain, respectively, and has lost some of them in the fighting.
Russia has repeatedly warned the West that arms shipments to Ukraine will only prolong the conflict, but will not change the outcome. Commenting on the Abrams deliveries, Kremlin Press Secretary Dmitry Peskov noted earlier this year that Western countries are drastically overestimating the impact of the tanks on the conflict, adding that the weapons will "burn like all the rest of them."
You can share this story on social media: