US using Ukraine playbook in Chinese-Russian neighbor – MP
Washington has been very active in Mongolia lately, trying to pit it against Russia and China, a top Russian lawmaker has warned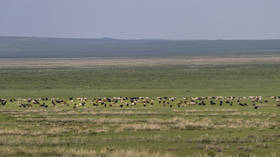 Washington is apparently preparing a Ukraine-style scenario for Mongolia, seeking to turn it against its immediate neighbors, Russia and China, the vice-speaker of the State Duma, the lower chamber of the country's parliament, Sholban Kara-ool, has warned.
The US embassy and other non-government organizations have been very active in the country, the MP wrote on his Telegram channel on Wednesday, sharing observations made during his recent visit to Mongolia.
"The Mongolian authorities greeted us with brotherly warmth, but on the streets of the Mongolian capital, I did not see a single sign in Russian, which had previously been present there for decades and were considered integral elements of the city as a sign of friendship between peoples," Kara-ool stated, adding that the trip gave him an "uneasy feeling."
"It is no secret that the same US organizations that have been investing in Ukraine since 2014 are operating in Mongolia. Therefore, their goals are clear," he claimed, without naming any precise bodies that might be involved.
Foreign embassies have been acting very "aggressively" in the country, and Russia must not lag behind in that line of work, the MP believes.
"It is necessary to strengthen inter-parliamentary cooperation, strengthen cultural and humanitarian ties and friendship of our peoples. Our relations have always been friendly and good-neighborly. We can't lose this," he argued.
You can share this story on social media: