Ukraine used British missiles to attack Russian port – Sky News
The UK outlet claimed that Storm Shadow cruise missiles were fired at Sevastopol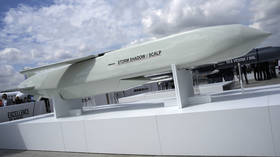 Storm Shadow missiles provided to Kiev by London earlier this year were used to attack a shipyard in Crimea, Sky News reported on Wednesday, citing unnamed Western and Ukrainian sources. The claim has not been officially confirmed.
Three unidentified missiles struck the Ordzhonikidze ship-repair facility in Sevastopol in the early hours of Wednesday, damaging a landing ship and a submarine currently in dry dock and starting a fire at the facility. Four of the 24 people injured in the attack were reported to be in serious condition.
The Russian Defense Ministry did not describe the missiles involved, only that there were ten of them and seven had been intercepted. Ukraine was quick to claim credit for the attack, but did not specify what type of weapons were used.
"It was Storm Shadow," an unnamed source told Sky News, which called the strike "audacious."
The outlet also quoted Admiral Sir Ben Key, the head of the Royal Navy, who was asked about the attack during a weapons fair in London. Key praised Ukraine's "innovative thought processes and a willingness to take risk," and "some really significant adaptations of tactics, techniques and capabilities." He did not comment on the Storm Shadow claim, however. Neither did the British defense ministry.
The UK confirmed back in May that it had provided Ukraine with an unspecified number of air-launched cruise missiles, which have a range of up to 300 km (200 miles). London said that Kiev had promised not to strike Russian territory with the weapons, but specified that this did not apply to Crimea, Donetsk, Lugansk, Kherson or Zaporozhye, which Ukraine claims as its own.
Within days of the announcement, Ukraine launched Storm Shadows at civilian targets in Lugansk and a bridge north of Crimea. By May 15, the Russian military had claimed its first intercept of the newest Western "wonder weapon."
At the end of June, Russian long-range missiles targeted Ukrainian air bases and a depot where the British missiles were reportedly stored. The use of Storm Shadows drastically decreased after that, as Kiev began demanding Taurus missiles from Germany, leading to widespread speculation about shortages.
While the Russian Defense Ministry did not offer much in the way of details about Wednesday's strike, one military blog claimed that the missiles were launched by Ukrainian SU-24M bombers flying over the Black Sea. Five of the incoming missiles were allegedly shot down by Pantsir air defense systems, one by a S-400 battery, and another by a MiG-31 fighter, but three managed to hit the shipyard.
You can share this story on social media: