UK supplies long-range missiles to Kiev – CNN
The new capability is touted as a "game changer" by a US official, speaking to the news network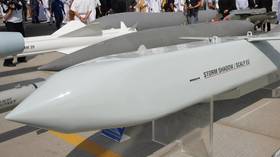 The UK has supplied a number of Storm Shadow cruise missiles to Ukraine, CNN has reported, citing senior Western officials. Kiev has long asked for weapons with a greater range to give it the capability to strike Russian targets far behind the frontlines.
The missile is "a real game changer from a range perspective," a senior US military official told CNN, commenting on the shipment, which the news channel reported on Thursday had been delivered.
The change in the military situation "will require a relevant response" from Russia, Kremlin spokesman Dmitry Peskov said, commenting on the news. He stated that appropriate decisions would be made by Russian commanders, without indicating what those steps might be.
The weapon was developed in the 1990s by the UK and France and is typically launched from the air. It can strike targets up to 300 kilometers (200 miles) away, comparable to the US-made ground-launched Army Tactical Missile System (ATACMS).
The Washington Post said London hoped its example would convince the US to follow suit and also provide long-range weapons, but according to Politico, Washington was not swayed.
The US is reportedly concerned about depleting its stockpile of ATACMS and a possible escalation, should Kiev use its new capability to strike targets on territory recognized as Russian by Western nations.
According to unconfirmed, classified Pentagon assessments leaked on a Discord server, Washington believes that such a development could convince Beijing to provide military assistance to Russia.
CNN, citing a Western official, reported that London has "received assurances from the Ukrainian government" that Storm Shadow missiles would be used "only within Ukrainian sovereign territory and not inside Russia". Kiev considers Crimea, which overwhelmingly voted to become part of Russia in 2014, and the four regions, including the Donetsk and Lugansk People's republics which joined the country in September, to be part of its territory.
Ukrainian President Vladimir Zelensky told Western media this week that the long-expected counteroffensive against Russia has been delayed because his military still needs "some things" to be delivered. He named armored vehicles as an example.
Meanwhile, US Secretary of State Antony Blinken has assessed that the Ukrainians already have "what they need to continue to be successful in regaining territory" from Moscow. Many Western observers have described the promised operation as crucial for the entire conflict in Ukraine, suggesting that Kiev may see foreign support dwindle, unless it proves that it can utilize it for gains on the ground.
Moscow, which considers the hostilities in Ukraine to be part of a US-led proxy war against Russia, has said the continued supply of Western weapons is only prolonging the conflict. The government has said it has no option to pull back, until the core issue of NATO's expansion towards its border, including in Ukraine, is addressed.
You can share this story on social media: