Washington 'relieved' UK will cross red line for Kiev – Politico
London's proposed delivery of long-range missiles has lifted the burden on the US to provide such weaponry, the outlet added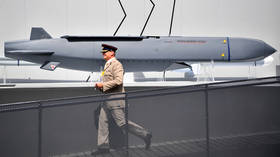 Officials in the administration of US President Joe Biden are reportedly "breathing a quiet sigh of relief" over reports that the UK will send long-range missiles to Ukraine. Washington views the provision of long-range weaponry to Ukraine as a step too far that would not be backed by lawmakers.
The reaction was described by Politico in a newsletter on Tuesday, citing anonymous sources in the US government. The British plan had been covered by The Washington Post, which cited its own unnamed sources.
Politico's NatSec Daily was told that Washington's position remained unchanged and that the Pentagon was not going to send Army Tactical Missile System, or ATACMS, to Ukraine, even with the UK crossing that line first – an outcome, the Post said, London had hoped for.
According to the original report, the British Ministry of Defence asked for "expressions of interest" in providing to Ukraine strike capabilities with a range of up to 300 kilometers (200 miles). The wording was included in a procurement notice posted last week by the British-led International Fund for Ukraine, which serves as a vehicle for funneling military aid to Kiev.
The weapons in question will probably be Storm Shadow cruise missiles, the newspaper said. Unlike the ground-launched, ballistic ATACMS, they must be fired from an air platform, but have comparable range.
Kiev has for long asked Western donors to give it the capability to strike targets from further away, promising not to attack territory that the US and its allies recognize as Russian.
The British-French Storm Shadow missile was developed in the 1990s and used in a number of British military operations, including the retaliatory strike in Syria that the US, the UK and France conducted jointly in 2018 after accusing Damascus of deploying chemical weapons in Douma.
The possibility of the UK sending the missiles to Ukraine was indicated in a purportedly classified Pentagon report that was leaked online through a discord server, The Post said. No final decision on the matter has yet been taken, the newspaper added.
London has a record of sending new kinds of weapons to Ukraine. In January, it announced a decision to deliver 14 Challenger main battle tanks, prompting Germany and the US to make similar commitments regarding their armor.
"It's a position the United Kingdom can uniquely do [since] Russia doesn't like us very much anyway," a British official told The Post, explaining London's willingness to escalate.
You can share this story on social media: