Kiev says its critics can 'join the foreign legion'
Those complaining about the failures of the Ukrainian military should pitch in and join the fight, Foreign Minister Dmitry Kuleba has said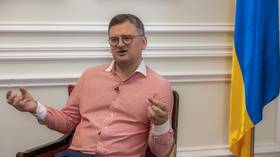 The Ukrainian government "doesn't care" how long the fight against Russia takes, and recommends that anyone complaining sign up for its foreign legion, Foreign Minister Dmitry Kuleba told France's AFP news agency this week.
In an interview published on Thursday, Kuleba said that Ukraine's goal remains the capture of all of its former territories – Donetsk, Lugansk, Kherson, Zaporozhye, as well as Crimea – from Russia.
"We don't care how long it takes," Kuleba said, claiming that Kiev has not been placed under any pressure by its Western backers to deliver results on the battlefield.
His statement stands in stark contrast to a glut of recent reports in the Western media, which suggest that American officials consider Ukraine's ongoing counteroffensive a failure, and now see Kiev's goals as unachievable. Earlier reports claimed that Washington's continued military support for Ukraine hinges on a successful counteroffensive, while Ukrainian President Vladimir Zelensky admitted last month that the operation was "not going well," and that Ukraine was facing "attempts to pressure us" into delivering battlefield victories.
"We're not feeling this," Kuleba said. However, the minister acknowledged "an increase in the voices of commentators and experts" talking about the slow pace of the operation. These critics, he said, should "go and join the foreign legion" if they want faster results.
"It's easy to say that you want everything to be faster when you are not there," he declared.
Three days after Russian forces entered Ukraine last February, Zelensky put out an appeal for foreigners to join the country's International Legion. Thousands answered, but stories of ill-prepared recruits, incompetent commanders, and horrific losses soon emerged. The legion shifted its recruitment efforts solely to military veterans shortly afterwards, but foreign fighters in Ukraine have consistently described conditions on the front line as "hell."
Out of almost 12,000 hired guns who made the journey to Ukraine since last February, just 2,200 remained as of last month, according to the Russian Defense Ministry. Nearly 5,000 were killed and the rest fled the country, the ministry stated.
"The Kiev regime uses mercenaries mostly as cannon fodder for meat assaults," ministry spokesman Igor Konashenkov said. "The Ukrainian command has no regard for their lives. The only choice they have is to flee Ukraine or die."
You can share this story on social media: