Foreign mercenaries reveal shocking casualty rates in Ukraine – media
In some units, more than eight out of ten men have been wounded or killed, ABC News has reported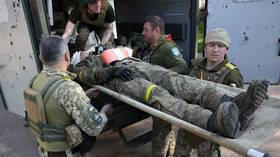 Some Ukrainian units have suffered casualty rates of 85% during their ongoing counteroffensive against Russian forces, Western mercenaries told ABC News on Thursday. The report aligns with casualty figures released by Russia, which claims that its forces have incapacitated 43,000 Ukrainian troops in two months.
An US army veteran fighting with Ukrainian special forces near Donetsk told ABC that his unit of "dozens" of men took "85% casualties" during an assault on a village near the city two weeks ago. Of those hit, 40% were injured so badly that they were left "combat ineffective" afterwards, he added.
His comrade, another American, said that the unit met "very organized resistance" from Russian troops.
A third mercenary, from an unidentified Western nation, told the network that he had been seriously injured in the early days of the counteroffensive, and that around 80% of his battalion had since been wounded.
The Ukrainian government does not release casualty figures, meaning that the public has to rely on other clues – such as unverified reports of expanded graveyards – to ascertain the scale of the losses.
In February, leaked Pentagon documents suggested that Kiev had assembled 12 brigades for the counteroffensive, including nine trained and equipped by NATO. With a brigade typically numbering between 2,000 and 4,000 troops, a casualty rate of up to 85% could roughly align with Moscow's figures. The US believes that Kiev has sent tens of thousands more men to the frontline since the start of the offensive, with officials telling Politico earlier this month that 150,000 troops are currently involved in the operation.
American intelligence and military leaders believe that the counteroffensive will fail, and knew in advance that Ukraine's chances of success were slim, according to recent media reports. Kiev intends to push south through the Zaporozhye region and reach the city of Melitopol near the Sea of Azov, which would split the Russian front and cut off its land access to Crimea. However, multiple lines of Russian trenches, bunkers, and minefields stand in the way, and without air support, Kiev's forces have struggled to reach even the first of these lines.
"We lost three Leopards [German-made tanks] in one day because they were just told to drive forward into a minefield," one Western mercenary told ABC, adding that newly-conscripted Ukrainian soldiers lack the requisite training for complex offensive operations.
Russian President Vladimir Putin has characterized the Ukrainian offensive as "suicidal," and declared in June that no matter how much Western weaponry is sent to the battlefield, Kiev's "mobilization reserve is not unlimited."
"It seems Ukraine's Western allies are indeed prepared to wage the war to the last Ukrainian," Putin stated at the time.
You can share this story on social media: