Ukraine's counteroffensive has failed – US congressman
Andy Harris says Kiev may have no chance of winning against Russia and suggests winding down US aid to Ukraine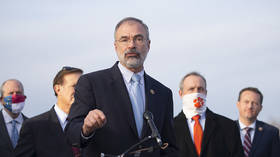 Ukraine is now in a stalemate in its conflict with Russia and it is unclear if it can win, one of Kiev's top backers in the US Congress, Representative Andy Harris (R-Maryland), has admitted.
Harris recently told a town hall meeting of his constituents that it is time to wind down direct US aid to Ukraine because Kiev's springtime offensive, which was supposed to turn the tide of the conflict, has failed to realise its goals, Politico reported on Thursday.
"I'll be blunt, it's failed," said Harris, who has been one the staunchest supporters of Ukrainian President Vladimir Zelensky and has repeatedly supported military, financial, and humanitarian aid to Kiev. "I'm not sure it's winnable anymore," he added.
Asked whether he would support another tranche of aid to Ukraine, Harris insisted that there are a number of concerns about providing more money to Kiev, one of which is the prospect of fraud or waste. "If there is humanitarian monies, nonmilitary monies, or military monies without an inspector general, I'm not supporting it."
The congressman added that the US has its own issues to deal with, including the trillion-dollar US deficit in the post-Covid years.
"I'm sorry, we don't have that kind of money," Harris said of US President Joe Biden's proposal to provide an additional $24 billion in emergency funds to Ukraine.
Instead of fueling the conflict further by providing Kiev with additional aid, Harris is now calling for peace negotiations.
"I think the time has come to realistically call for peace talks. I know President Zelensky doesn't want it," Harris said. "But President Zelensky, without our help, he would abjectly lose the war. And with our help, he's not winning. It's a stalemate now."
Harris is the son of immigrants from Eastern Europe. His Hungarian-born father, Zoltan, married Irene Koczerzuk, a Polish refugee from present-day Ukraine, before immigrating to the US in 1950.
Ukraine has refused to enter into talks with Russia. Zelensky has formally outlawed any negotiations with the Kremlin as long as Russian President Vladimir Putin remains in power, and has insisted that Kiev will discuss peace only after Russian forces withdraw from the territories it claims as its own.
Moscow has said that it is open to peace talks as long as Kiev respects its national security interests and the status of the former Ukrainian regions that officially joined Russia following referendums.
Russian officials have argued that Kiev's Western backers are pushing it to prolong the conflict and have thwarted attempts at finding a peaceful resolution. In June, Putin revealed that Moscow and Kiev had reached a preliminary agreement in the early months of the conflict in 2022, only for the Ukrainian side to "throw it all away, into the garbage dump of history."
You can share this story on social media: