Ukrainian leadership split over counteroffensive – Newsweek
Some officials in Kiev reportedly doubt that the current battlefield strategy can lead to success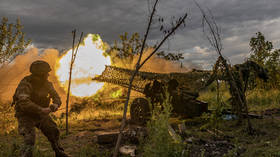 Ukraine's failure to break through Russian defenses has driven a wedge between top officials in Kiev, with heated debates underway over whether the country should press ahead with, or abort, its much-hyped counteroffensive, Newsweek reported on Wednesday.
Describing the dilemma facing Ukrainian President Vladimir Zelensky, the outlet has claimed that he must now decide "whether to go all-in and risk a costly failure, or to cut Ukraine's losses and accept a politically damaging defeat."
The Ukrainian leadership has therefore split into two camps. One group insists that Kiev should pull back and wait for an anticipated Russian offensive in the fall and spring. The second group, which includes army chief Valery Zaluzhny, wishes to continue the counteroffensive while dismissing any criticism as "impatience rooted in misunderstanding," according to the article.
"There definitely are some differences among the Ukrainian leadership about the military strategy," an unnamed source "close to the Ukrainian government" told Newsweek.
Ukraine's slow progress on the battlefield has also led to rumblings among civilian officials, with "a blame game …. brewing in Kiev," the outlet wrote.
"There's a sense that they were misled by the military in terms of how well this counteroffensive would go, that they were provided with overly rosy assessments from the military side. They're unhappy about that," the source said, adding that he would not rule out possible changes in the country's military command.
However, a Ukrainian Defense Ministry spokesperson has pushed back against reports of an alleged rift among Ukrainian leaders, dismissing them as a Russian propaganda narrative in a statement to Newsweek.
Ukraine launched its much-anticipated full-scale offensive along several sections of the front in early June after being reinforced by hundreds of Western-supplied tanks and other heavy equipment. However, despite two months of intense fighting, Kiev has still not gained any ground, while losing 43,000 service members since the start of the push, according to Moscow.
Kiev officials have acknowledged the difficulties, blaming them on delays in Western military assistance, lack of air support, formidable Russian defenses, and extensive minefields. In recent weeks, numerous Western media outlets have reported that Kiev's backers were unimpressed or outrightly "alarmed" by its slow progress on the battlefield.
On Saturday, the Times reported that NATO had been overly optimistic about Ukraine's push, partly due to "miracles" promised to the bloc by officials in Kiev.
You can share this story on social media: