Ukrainian counteroffensive falling short of NATO expectations – The Times
The US-led military bloc "expected miracles" of Kiev's troops, an American officer told the British newspaper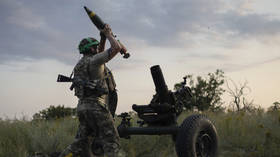 NATO was overly optimistic about the Ukrainian military's ability to regain ground before its summer counteroffensive, The Times reported on Saturday, citing an unnamed US officer. The British newspaper noted that officials in Kiev had begun blaming their Western backers for their supposed lack of resolve.
In its article penned by Mark Galeotti, the author of more than 20 books on Russia, The Times quoted an anonymous US army officer involved in the training of Ukrainian service members. "Nato expected miracles, and the Ukrainians promised them," he said, adding that "you can't run a war on optimism."
Another US official told the media outlet that "we haven't quite closed the book on 2023, but we are ramping up our thinking about 2024."
The report claimed that neither Russia nor Ukraine can make any decisive advances at present, with the latter now touting the capture of individual villages as a sign of success.
The author estimates that Kiev has two months at most to turn the tide before autumn rains start making the ground impassable for military hardware in November.
Strong defense fortifications and extensive minefields set up by Russian forces in southern Ukraine were among the reasons for the apparent underperformance of Kiev's counteroffensive, the report claimed.
Against this backdrop, officials in Kiev have recently begun criticizing NATO for not doing enough, with one describing the US-led military bloc as "gutless," according to the newspaper.
With neither side willing to compromise, the conflict is likely to continue for the long haul, the report concluded.
Speaking to the Washington Post earlier this week, Polish President Andrzej Duda, one of Kiev's staunchest Western supporters, acknowledged that the Ukrainian military was "not currently able to carry out a very decisive counteroffensive against the Russian military."
Also this week, CNN quoted unnamed US and other Western officials as predicting that it was "highly unlikely" that Kiev forces would be able to "make progress that would change the balance of this conflict."
Ukraine launched its long-awaited counteroffensive in early June, concentrating its efforts at multiple points along the frontline from Zaporozhye to Donetsk Regions.
According to Russia's Defense Ministry, the operation has turned out to be a failure that has so far cost Ukraine 43,000 personnel and 4,900 units of military hardware.
You can share this story on social media: