US demanding big results from Ukraine's counteroffensive, soon – Politico
Without major gains, Ukrainian officials fear the flow of Western weapons may dry up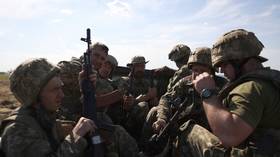 US officials are telling their Ukrainian counterparts that Washington's support for their war effort hinges on the success of the ongoing counteroffensive against Russian forces, Politico reported on Thursday. The offensive has failed so far, with Ukrainian losses counted in the thousands.
US President Joe Biden has repeatedly promised to back Ukraine "for as long as it takes." However, when Ukrainian officials recently asked the US State Department and National Security Council whether they could count on this support to continue through next year's election season and a potential change of power in the White House, they were told "let's see how the counteroffensive goes," Politico reported.
Ukraine's former deputy prime minister, Ivanna Klimpush-Tsintsadze, told the US news site that these talks left her feeling anxious about the "continuation of the same level of US support to Ukraine after this financial year," which ends in September.
After months of mixed messages from Kiev – and reports of depleted stockpiles and general unreadiness in the Western media – Ukrainian forces launched their long-awaited counteroffensive against Russian forces almost two weeks ago. Attacking multiple sections of the frontline in Donetsk and Zaporozhye Regions, Ukraine has so far failed to penetrate Russia's multi-layered defensive trenches, minefields, and anti-tank obstacles.
With Ukraine's Western-provided air defense systems degraded by constant missile and drone attacks, Russian air support has acted with impunity, inflicting devastating losses on the Ukrainian forces. As of Wednesday, Russia's Defense Ministry counted 7,500 dead or wounded Ukrainian troops, not including those hit by high-precision missiles and airstrikes deep behind the front lines.
Videos of wrecked Western tanks and armored vehicles have circulated online, and Russian President Vladimir Putin claimed on Wednesday that Kiev has lost "at least 160 tanks and 360 armored vehicles." The hardware destroyed by Russian troops accounts for between 25% and 30% of all Western military equipment supplied to Ukraine, the president estimated.
Publicly, Western officials have hedged their bets, leaving it up to Kiev to define what a victorious offensive would look like and downplaying expectations of a thrust to Crimea, as Ukrainian President Vladimir Zelensky has promised. According to the New York Times, American and European officials would consider the offensive successful if Ukrainian forces cut off Russia's land bridge with Crimea and managed to hold any territory seized in this direction.
Citing European diplomats, the Times wrote that "failure would look like a Ukrainian army that has not learned to fight, has lost the equipment given to them in recent months and gained no territory to show for that."
You can share this story on social media: