Kiev intends to kill as many Russians as possible – top Zelensky aide
Mikhail Podoliak says Ukraine's only plan is to launch a brutal offensive to reach its 1991 borders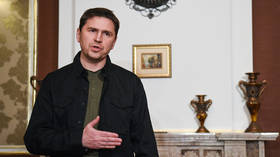 Ukraine currently has only one plan, which is a campaign to kill the maximum number of Russians, Mikhail Podoliak, an advisor to the chief of President Vladimir Zelensky's office, said on the air during a telemarathon on Thursday.
"There is only one plan: the most brutal advance with the maximum killing of Russians on this route," he said, noting that Kiev "can't just stop somewhere and say 'alright, let's think and talk about something now.'"
"The only possible scenario for Ukraine is to reach its 1991 borders," he said.
Back in May, Podoliak also proclaimed that his country hates Russia and those who represent it and vowed to "persecute" Russians "always and everywhere." That followed comments by Kirill Budanov, the head of Ukraine's military intelligence agency, who boasted that his agents had murdered Russian public figures and pledged that Kiev will "keep killing Russians anywhere on the face of this world."
Earlier this week, Ukraine's Defense Minister Aleksey Reznikov revealed that Kiev had been instructed by its Western backers in the early days of the conflict to "kill as many Russians" as it could before surrendering.
"We asked, 'can we have stingers?'" Reznikov told Foreign Policy magazine in an interview published on Tuesday. "We were told, 'No, dig trenches and kill as many Russians as you can before it's over.'"
The minister boasted that since then Ukraine's forces have received a large number of Western weapons and heavy arms and stated that Kiev will also soon be equipped with F-16 fighter jets.
The West has continued to provide billions of dollars worth of military aid to Kiev, with the stated intention of helping Ukrainian forces score as many battlefield successes as possible before the conflict is eventually settled at the negotiating table.
Last month, however, US Senator Lindsey Graham hinted at Washington's true intentions in continuing to fuel the conflict. During a meeting with Zelensky in Kiev, Graham expressed glee at the fact that "the Russians are dying" and said later in the meeting that the billions of dollars that the US has poured into Ukraine was "the best money we've ever spent."
You can share this story on social media: