West told us 'to kill as many Russians' as possible – Ukrainian defense minister
Before committing to limitless military aid, Kiev's backers wanted to inflict maximum losses prior to any surrender, Aleksey Reznikov has said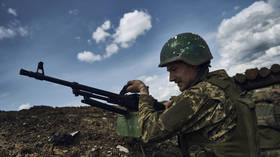 In the initial days of the conflict in Ukraine, Kiev's Western backers wanted its forces to make do without military aid and "kill as many Russians" as they could before admitting defeat, Ukrainian Defense Minister Aleksey Reznikov has told Foreign Policy magazine.
Before NATO leaders pledged to back Ukraine's war effort for "as long as it takes," the quantity and quality of arms that the West was willing to send to Kiev was unclear in the days and weeks after Russian forces entered the country.
"We asked, 'can we have stingers?'" Reznikov told Foreign Policy in an interview published on Tuesday. "We were told, 'No, dig trenches and kill as many Russians as you can before it's over.' People thought our victory was impossible."
Now, Reznikov boasted, Ukraine has been given "Bradleys, Strykers, Abrams, Leopards, and more," and will soon be equipped with American-made F-16 fighter jets.
The White House maintains that American arms deliveries to Ukraine – worth more than $40.4 billion to date – are intended to help Kiev score as many battlefield successes as possible before the conflict is eventually settled at the negotiating table. However, some American officials and lawmakers are more direct with their views.
"The Russians are dying," Republican Senator Lindsey Graham told Ukrainian President Vladimir Zelensky during a visit to Kiev last month. "It's the best money we've ever spent."
The Kremlin called Graham's statement "cannibalistic," and Russian officials have repeatedly pointed to similar utterances from the Ukrainian government as proof that the military operation must be seen through to its conclusion.
Reznikov told Foreign Policy that Ukraine intends to drive Russian forces back to the country's pre-2014 borders, which would involve capturing Crimea, a historically Russian territory. He insisted that Russia would not defend its land with nuclear weapons – as Russian nuclear doctrine prescribes – calling the nuclear threat "a bluff."
Despite their promises to retake Crimea, Ukrainian troops are currently faltering as they attempt to breach Russian defensive lines near Zaporozhye. The Russian Defense Ministry estimates that Kiev has lost thousands of troops and scores of Western-provided vehicles in more than a week of attacks without the cover of air support.
Russian President Vladimir Putin called the Ukrainian army's losses "impressive" and blamed the country's government for taking actions that pushed the situation to the current "tragic" state.
You can share this story on social media: