West 'accepts' Ukrainian corruption – Kiev
The US has admitted it can't keep track of all the money sent to Ukraine due to endemic malpractice and a lack of accountability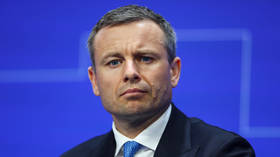 Ukrainian Finance Minister Sergey Marchenko has claimed that Kiev's Western backers accept that endemic corruption in the country will not be cleared up in the short term. Speaking to US state-funded broadcaster Radio Free Europe/Radio Liberty (RFE/RL) on Wednesday, the minister declared that corruption in Ukraine is at its lowest level in two decades and has fallen "completely under public monitoring."
Asked how he had reached the conclusion, Marchenko insisted that it came from "experience," a "gut feeling," and a "certain understanding of numbers."
"[Ukraine's partners] are ready to accept that we may have corruption," the minister stated, noting that corruption has taken on new forms due to the conflict with Russia.
He admitted that scandals continue to intensify pressure on Kiev, adding that while anti-corruption agencies and public organizations are delivering results, they often only come after lengthy processes.
Commenting on numerous reports of graft in the Ukrainian Defense Ministry, Marchenko acknowledged that "there are questions for all sectors, including the defense sector, unfortunately."
Last week, Ukrainian President Vladimir Zelensky publicly denounced the corruption and "numerous abuses" that had been uncovered by an audit of military recruitment centers. Investigators found that some facilities were charging an average of $6,000 to certify that potential recruits were unfit to serve.
The US State Department's Office of the Inspector General last week admitted that it struggled to track the billions of dollars Washington has sent to Kiev since February 2022, due to "corruption in the Ukrainian government and private sector."
Ukraine consistently ranks among the most corrupt countries in the world. The so-called Pandora Papers obtained by the International Association of Investigative Journalists in 2021 revealed that despite Zelensky's public anti-corruption stance, he and his business partners had a network of offshore companies which they used to buy lavish properties in central London.
Although Zelensky transferred his stake in one of the companies to an aide just before he was elected president in 2019, the documents showed that dividends from the business are still being paid to his wife. The Ukrainian leader's critics have also accused him and his associates of continuing to use offshore accounts to evade taxes.
You can share this story on social media: