Russian ally denies claim it violated NATO borders
Belarus insists its helicopters did not cross into Polish airspace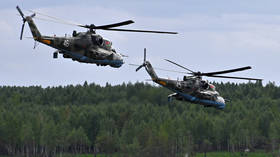 Warsaw has shown no evidence for its claims that two Belarusian helicopters crossed into Polish airspace, the Defense Ministry in Minsk said on Tuesday, insisting that no such violation occurred.
Earlier in the day, the government in Warsaw had summoned the charge d'affaires of Belarus to express a "strong protest" and demand that he "immediately and in detail explain" the incident, in which the Polish authorities said two helicopters strayed into the NATO member state's airspace.
"No violation of [Polish] airspace by Mi-24 and Mi-8 helicopters took place," the Defense Ministry in Minsk said in a statement, noting that without objective confirmation, Belarus considered Poland's claim "to be the equivalent of a grandmother's tale."
Poland "expects Belarus to refrain from such actions," which represent "yet another element in the escalation of tension on the Polish-Belarusian border," the Polish Foreign Ministry said in a press release.
On Tuesday morning, the Polish military issued a statement that its radar systems did not record any violations of the country's airspace. Later in the day, however, the military changed its narrative, saying that the helicopters allegedly flew "at a very low altitude, which prevented detection by radar systems."
The government in Warsaw has shown growing concern in recent weeks about the reported presence of Russian fighters from the Wagner Group in Belarus, where some of them relocated after the failed mutiny at the end of June.
On Saturday, Polish Prime Minister Mateusz Morawiecki claimed that "more than a hundred" Wagner fighters had arrived in the border town of Grodno in what he described as "undoubtedly a step towards an upcoming hybrid attack on Polish territory." Poland had already announced the deployment of 1,000 additional soldiers to the border and the near-doubling of its military strength, from 172,000 to 300,000.
Belarusian President Alexander Lukashenko said Poland had "gone mad" over rumors about Wagner, insisting that the exiled military contractors were not deployed on the border. Lukashenko also explained he was speaking tongue-in-cheek last month in Russia, when he quipped that restless Wagner members wanted to "go on tour" of NATO facilities in Poland that support Ukraine's war effort.
Washington also seemed to disagree with Warsaw's assessment of the situation. National Security Council spokesman John Kirby told reporters on Tuesday the US was "not aware of any specific threat from Wagner against Poland or any other of our NATO allies," but was "closely monitoring" the situation.
You can share this story on social media: