Kiev attempts 'terror attack' on Russian civilian ships – MOD
The raid occurred as the vessels were heading for the Bosporus Strait, the Defense Ministry has said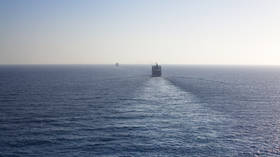 Ukrainian maritime drones have attempted to attack Russian civilian vessels in the Black Sea, but were destroyed by Russian navy escort ships, the Defense Ministry announced on Tuesday.
In a statement, the ministry claimed that "overnight, the Kiev regime tried to stage a terror attack on Russian civilian transport ships heading for the Bosporus Strait in the southwestern part of the Black Sea, which used three semi-submersible unmanned boats."
Earlier in the day, defense officials said that Ukrainian drones had mounted an unsuccessful attack in the same area on two Russian patrol vessels, the Sergey Kotov and Vasily Bykov, adding that the ships continued their operations.
The Sergey Kotov had previously been attacked by two Ukrainian sea drones in the Black Sea last week but managed to destroy the incoming UAVs.
The report of a Ukrainian drone attack comes after Russia withdrew last month from the UN- and Türkiye-brokered grain deal that was intended to unblock agricultural exports via the Black Sea. Explaining the decision, Kremlin Press Secretary Dmitry Peskov described the agreement as a "one-sided game," noting that none of Russia's long-standing demands – most notably the easing of Western sanctions on the agricultural sector – had been met.
Following Moscow's withdrawal, the Russian Defense Ministry said that any ships sailing to Ukrainian ports in the Black Sea would be "considered potential carriers of military cargo." The Defense Ministry in Kiev responded by issuing a similar statement, warning that all vessels, including civilian ones, can be treated as potential carriers of military cargo.
You can share this story on social media: