Arms sent to Kiev by Paris used by French rioters – Moscow
Support for Ukrainian nationalists has emboldened similar groups across Western Europe, the Russian Foreign Ministry has claimed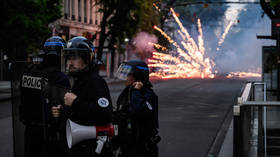 French weapons originally supplied to Ukraine have surfaced in their country of origin, and are being used by rioters to attack police, Russia's Foreign Ministry spokesperson has claimed.
Maria Zakharova told a press conference on Thursday that Western countries' years-long support of radical Ukrainian nationalists has now emboldened like-minded forces on their own soil.
"According to multiple media reports, neo-Nazi groups are taking direct action in the riots in France," she said.
"Weapons, delivered to Kiev, end up in the hands of those very protesters and are being used against the police there, in France," Zakharova added, without specifying the type of arms involved.
Weapons and funds provided to the "Kiev regime" by the US and its allies "boomerang and… damage their own people," Zakharova stated, adding that Moscow has been warning about the risk of a spillover for a long time. Paris "is fueling the black market for arms and sponsors international cross-border crime" with its assistance to Kiev, she claimed.
France may suffer similar blowback after training "nationalist militants" to fight Russian forces, Zakharova warned, noting that Paris plans to teach combat tactics to some 4,000 Ukrainian troops this year alone.
"Nobody should be surprised, if the same [French-trained people] would be spotted during some future riot in the streets of Paris and other French cities," she stated.
The latest wave of street violence in France was triggered by the police shooting of a 17-year-old man of Algerian and Moroccan descent. Moscow has condemned both the police brutality, which it believes set the stage for the violence, and the mayhem caused by the protesters.
France, Zakharova concluded, should stop lecturing other nations on how they should uphold the rule of law and deal with its own domestic problems.
You can share this story on social media: