10% of arrested rioters were foreigners – French Interior Ministry
Over ten thousand vehicles have been burned during the unrest, Gerald Darmanin has claimed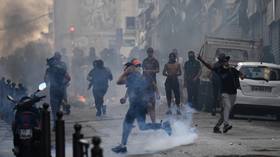 Over 3,500 people have been arrested in connection to the mass riots that swept across France following the death of a 17-year-old boy of North African descent at the hands of the police last week, Interior Minister Gerald Darmanin told the French Senate on Wednesday. Almost 1,400 people were detained in Paris and its suburbs alone, he added.
Most of those detained were youths aged between 17 and 18, according to the minister. A third of them were minors who were "extremely young for the most part," he said, adding that the youngest detainee was only 11 years old.
A total of between 8,000 and 12,000 people participated in the riots, of which "only 10% are of non-French nationality," Darmanin revealed, adding that foreigners were not the majority behind the unrest. Almost two thirds of those arrested during the past week had no criminal record and were previously unknown to the police, the minister added, during a hearing that lasted nearly an hour and a half.
The unrest resulted in more than 12,000 burned vehicles and over 2,500 buildings destroyed or damaged, including 273 police buildings, 105 town halls, and 168 schools. The riots also involved 17 attacks on "elected officials" and left some 800 police officers and gendarmes injured, he said.
The minister challenged the claims that more police shoot at vehicles if drivers refuse to comply with orders. The number of such incidents has declined, falling from 255 in 2017 to 168 in 2022, Darmanin stated.
"Has [the number of] shootings increased by five times as I read? It is wrong!" he exclaimed, adding that the opposite is the case and the police officers use their weapons "less and less" despite the increased non-compliance rate among the drivers.
The unrest was sparked by a police officer's killing of teenager Nahel Merzouk in the suburbs of Paris. The 17-year-old allegedly tried to drive away after being stopped by the police. The police officer who fatally shot the 17-year-old boy last week remains in custody as of Tuesday. He has been charged with homicide.
You can share this story on social media: