Man arrested for 'desecrating' Koran in Russian region
The suspect, who posted a video of himself disrespecting Islam's holy book, is an Egyptian national, according to the media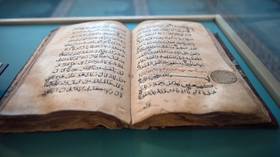 A criminal case has been launched against a foreign citizen on suspicion of desecrating the Koran in the Russian city of Ulyanovsk on the Volga River, the local branch of Russia's Investigative Committee has said. He is accused of offending religious feelings and hooliganism.
The man is alleged to have performed the illegal action at a footbridge over the city's Sviyaga River on June 1, the agency announced in a statement on Thursday. The investigation has found out that "the 28-year-old citizen of a foreign country" stamped on the Koran, poured alcohol on it, and then tossed the Islamic holy book into the water, while filming everything on his phone, it said.
The investigators will ask the court for the man to be placed in custody pending a full probe, the agency pointed out. A search of his home has also been ordered, it added. The foreigner could face up to five years in Russian prison if he's found guilty.
Local media identified the suspect as an Egyptian national who has been living in Russia for several years. According to the Argumenty I Fakty newspaper, he used to be Muslim, but converted to Baptism in his home country back in 2018. He reportedly had to leave Egypt due to being persecuted over his religious beliefs there.
The story made headlines in early June after the man posted the video of himself desecrating the Koran on social media.
The head of Ulyanovsk Region Aleksey Russkikh took to Telegram on Wednesday to express his outrage over what had happened. "Our region is multinational and multi-confessional. We respect each other, honor each other's traditions, customs and we are very sensitive to the religious feelings of the believers. This is a crime against all of us," the governor wrote.
"In some other countries such antics might be a perverted norm, but in Russia disrespect for the Koran is a disgusting crime," he added.
The governor was likely making a reference to the recent burning of the Koran by an Iraqi anti-Islam activist, which took place outside a mosque in Swedish capital Stockholm in late June, and he was not convicted by a court.
You can share this story on social media: