Wagner Group was fully funded by Russia – Putin
Evgeny Prigozhin earned billions of rubles from government contracts while using state money to pay fighters, Vladimir Putin said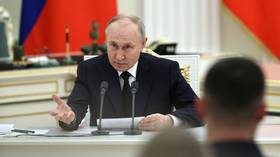 The Wagner Group was fully dependent on state support, Russian President Vladimir Putin told a meeting with the country's military commanders in the Kremlin on Tuesday. The private military company's fighters were supplied and paid by the Defense Ministry and the state budget, he added.
Between May 2022 and May 2023, the Russian authorities allocated 86.26 billion rubles ($1.04 billion) for wages and incentive payments for the Wagner fighters, the president revealed.
Meanwhile, Wagner founder Evgeny Prigozhin, who also owns the Concord catering company, earned billions of rubles on state contracts, Putin added.
"When the upkeep of the Wagner Group rested on the shoulders of the state, the Concord owner received… 80 billion rubles ($960 million) from the state in a year by supplying food products to the army," the president said.
"I hope that no one stole anything while fulfilling these [contracts]," he continued, adding that the authorities would "certainly dig into it."
Last Friday, Prigozhin sent his Wagner Group to march towards large Russian cities with the stated goal of removing several generals whom he accused of treason. Several military aircraft were shot down during the rebellion.
The mutiny ended the following day through the mediation of Belarusian President Alexander Lukashenko. Prigozhin explained the decision as a desire to avoid major bloodshed. Putin stated that the authorities would not prosecute Prigozhin or his troops, and invited Wagner fighters to join the regular Russian military. Alternatively, they will be allowed to leave active service or follow Prigozhin to Belarus, which has agreed to host him.
On Tuesday, Putin praised the Russian army and security officers for preventing a "civil war." The response allowed all critical defenses and government systems to continue operating, the president added.
You can share this story on social media: