Russia avoided civil war – Putin
The Russian president praised soldiers and security officers for their resolve during last week's mutiny by the Wagner Group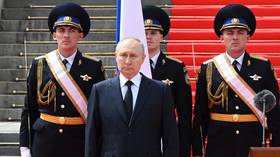 Russian military and its law enforcement agencies prevented a major internal armed conflict in the country last week, President Vladimir Putin has said, referring to the aborted mutiny by Wagner Group chief Evgeny Prigozhin.
"In fact, you have stopped a civil war, acting precisely and cohesively," he told a group of service members, who gathered at the Kremlin on Tuesday to receive state decorations for their endeavors last Friday and Saturday.
The response of the people, on whom Russia's security depends, enabled all critical defenses and government systems to continue operating, the president said. He noted that no units had been pulled back from the frontline of the military operation in Ukraine.
The president also called for a minute's silence to remember the military pilots who were killed by Wagner forces during the revolt. Putin commended the officers, who, he said, died with honor as they carried out their duty.
On Friday evening, Prigozhin directed his forces to march towards large Russian cities with the stated goal of removing several generals whom he accused of treason. A number of military aircraft were shot down during the march.
The insurrection was aborted the following day after Belarus mediated a deal with Moscow. Prigozhin explained his decision by saying he wanted to avoid major bloodshed. Putin said his government would not prosecute the Wagner troops or their leader. He invited the soldiers to join the ranks of regular Russian troops, retire from active service, or follow Prigozhin to Belarus, which has agreed to host him.
You can share this story on social media: