Putin addresses Wagner 'betrayal'
Any attempts at fomenting turmoil among Russians are doomed, the president said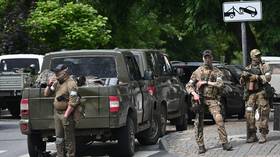 Russian President Vladimir Putin credited the patriotic spirit of the nation for avoiding bloodshed over the weekend and again condemned the "treasonous" mutiny by the private military company Wagner, in a speech on Monday evening.
Putin thanked President Alexander Lukashenko of Belarus for his "contribution to the peaceful resolution of the situation." He also confirmed the deal struck on Saturday, stating that Wagner members who wish to do so can leave for Belarus, go home, or re-enlist with the Russian military.
"The promise I made will be fulfilled," Putin said. "The choice is yours, but I am sure it will be the choice of Russian soldiers who have realized their tragic mistake."
The president thanked the people of Russia for their "endurance, unity and patriotism" and for showing "firm, unambiguous support for the constitutional order." Attempts to foment internal unrest in Russia are "doomed to failure," Putin added.
The mutiny would have been put down in any case, Putin noted, accusing its organizers of betraying not just the country, but their own men, leading them astray into criminal fratricide.
"They [the West and Ukraine] wanted Russian soldiers to kill each other, so that soldiers and civilians would die, so that in the end Russia would lose, and our society would break apart and choke on bloody civil strife," the president said. "They rubbed their hands, dreaming of getting revenge for their failures at the front and during the so-called counteroffensive, but they miscalculated."
Putin thanked all of the soldiers, police and special services who remained true to their oath, and noted the "courage and self-sacrifice of the heroic fallen pilots" who saved Russia from tragedy.
According to multiple reports, up to 20 airmen died after Wagner allegedly shot down several military helicopters and an airplane. The Russian Defense Ministry has not, however, published an official death toll.
According to the president, the "overwhelming majority" of Wagner fighters and commanders are also Russian patriots, who "proved it with their courage on the battlefield, liberating Donbass and Novorossiya." He said he personally ordered measures intended to avoid bloodshed and to allow those who made a mistake time to rethink their actions. He thanked those Wagner members who "made the right decision, who stopped before crossing the line into fratricidal bloodshed."
On Saturday, as Wagner troops occupied Rostov-on-Don, Putin accused the private military company's leadership of delivering a "stab in the back" comparable to that of 1917, and of giving aid and comfort to the enemy.
You can share this story on social media: