Zelensky may 'sacrifice all of Europe' – Russian envoy
With its counteroffensive failing, Kiev may cause a nuclear disaster to draw NATO into war with Russia, Dmitry Polyansky said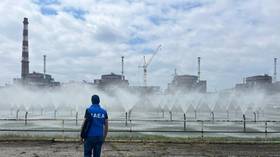 Ukrainian President Vladimir Zelensky could stage a false-flag attack at the Zaporozhye Nuclear Power Plant (ZNPP) in order to provoke NATO intervention, Russia's deputy permanent representative to the UN, Dmitry Polyansky, warned on Friday.
Polyansky said on Twitter that Russia had "just drawn attention to these plans of [the] Kiev regime during the UN Security Council meeting" that morning. "The whole of Europe may be easily sacrificed by Ze and his blind Russophobic sponsors," he added. "Don't tell us we didn't warn you!"
Zelensky's "plan" – according to some pro-Russian commentators – would involve causing a nuclear accident at the ZNPP facility, which has been under Russian control since the early days of the special military operation in Ukraine. According to this theory, Kiev would then blame the ensuing disaster on Russia, leading NATO to openly declare war on Russia in response.
This exact scenario was mapped out by US Senators Lindsey Graham and Richard Blumenthal on Thursday. The two lawmakers proposed a resolution under which the US would consider a meltdown at the plant as an act of war against NATO, due to the fact that Poland would be affected by radioactive fallout. Russia's ambassador in Washington, Anatoly Antonov, cautioned that the "crazy" resolution could be laying the groundwork for such a false-flag incident.
Zelensky claimed on Thursday that Russia is preparing a "terrorist act" at the ZNPP, adding that "radiation knows no borders" and "who it hits" will depend on the "direction of the wind."
Russia has repeatedly accused Ukraine of shelling the ZNPP, with Moscow's permanent ambassador to the UN, Vassily Nebenzia, demanding on multiple occasions that the UN Security Council order Kiev to cease firing on the plant. Ukrainian forces also made several attempts to retake the plant by crossing the Dnieper River last year, and allegedly attacked it with explosives-laden drones on Friday morning.
"Ukraine blew up the Nova Kakhovka hydroelectric power station in order to distract the world from the failures of their much-publicized counteroffensive," Zaporozhye authorities said in a statement. "Now they need another disaster, this time a nuclear one, for which they will again blame Russia."
Launched at the beginning of this month, Ukraine's counteroffensive has cost Kiev 13,000 troops so far, without netting any significant territorial gains, according to the Russian Defense Ministry. With American and Western officials reportedly displeased, Mikhail Podoliak, a senior aide to Zelensky, blamed the offensive's failure on the West's apparent hesitance to give Kiev all of the heavy weapons it asked for in recent months.
You can share this story on social media: