Russia blasts 'crazy' US resolution on nuclear weapons
Ambassador Antonov responded to a proposal in the Senate to regard any use of tactical nukes by Moscow as an attack on NATO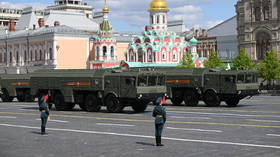 The speculation of US policymakers that Russia could resort to using tactical nuclear weapons is "absurd" and only adds fuel to the stand-off between Moscow and the West, Anatoly Antonov, Russia's ambassador in Washington, said on Thursday.
In a statement on Telegram, the envoy weighed in on a bipartisan resolution introduced by US Senators Lindsey Graham and Richard Blumenthal on Thursday suggesting that Washington should consider the use of tactical nuclear weapons by Russia or its allies as an attack on NATO.
Antonov described the resolution "as yet another manifestation of blind hatred for our country," claiming that its sponsors seek to drag Washington even deeper into the Ukraine conflict.
"This is not just another crazy initiative by Russophobe US senators," Antonov stated, saying it shows who is really pursuing a course towards a direct global conflict between Russia and NATO.
The proposed resolution also seeks to impose on the global community a "provocative point of view that Russia intends to launch a nuclear strike on the territory of Ukraine," Antonov said, suggesting that the document could also be laying the groundwork for accusing Moscow of staging a nuclear incident at the Zaporozhye Nuclear Power Plant, which was captured by Russian troops in the early days of the Ukraine conflict.
The ambassador said that Russia has always been "a responsible nuclear power," and has not changed its nuclear doctrine, which stipulates that Moscow can only use nuclear weapons if the very existence of the state is being threatened.
By using such cheap rhetoric, the local elite demonstrates its absolute incompetence in strategic matters. The provocative and short-sighted remarks of the US lawmakers only serve to escalate tensions and increase the risk of the situation sliding to an even more dangerous point.
Antonov also pushed back against another clause of the Graham-Blumenthal resolution calling for the deployment of Russian tactical nuclear weapons in Belarus to be recognized as a threat to Ukraine and NATO.
"We have not violated a single international obligation. We did exactly what the Americans have been doing for decades by fielding nuclear bombs on the territories of their European allies," the envoy said.
The move was announced by Russian President Vladimir Putin in late March in response to the UK's decision to provide Kiev with depleted uranium munitions. Later, he clarified that the nuclear weapons would start arriving in the neighboring country in early July once all preparations have been completed.
You can share this story on social media: