Kiev blames West for counteroffensive failures
Western hesitancy to send more arms cost the Ukrainian military valuable time, an aide to President Vladimir Zelensky has claimed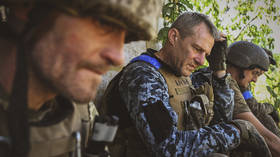 Nations that sent weapons to Ukraine to bolster its counteroffensive against Russia were too slow to meet Kiev's demands and gave Russia time to prepare defensive positions, a senior aide to President Vladimir Zelensky has claimed.
Mikhail Podoliak offered a rebuke on Friday to anyone disappointed by the slow pace of the Ukrainian operation, declaring that combat was not "a new season of a Netflix show." He pointed the finger at Western countries, blaming them for the underwhelming results so far.
"The time lost in convincing our partners to provide the necessary weapons is reflected in the specific Russian fortifications built during this period, the deeply dug defense line, and the system of minefields," Podoliak stated in a tweet.
The Ukrainian military leadership will make decisions based on "military science and intelligence" and not the opinions of "fans in the stands," he concluded.
The push against Russia began earlier this month, although Kiev had touted it months in advance and initially hoped to launch the operation in March. Ukrainian forces have made only limited gains on the south of the front line and were forced to fend off a Russian campaign in the north, according to reports. Moscow has claimed that Ukraine has lost over 13,000 troops in around two weeks of fighting.
The results so far have not met Washington's expectations "on any front," officials told CNN, according to a report on Thursday. Zelensky himself has also acknowledged that the operation was going "slower than desired."
Ukrainian Foreign Minister Dmitry Kuleba downplayed the severity of the situation this week, stating that people should not consider the attempt to advance as the "last and decisive one."
"There will be so many counteroffensives, as many as is needed to expel Russia from our territory," he insisted.
Multiple Western outlets have suggested that the amount of future foreign military assistance to Kiev would depend on the outcome of the operation.
You can share this story on social media: