IAEA debunks Ukrainian claim about Europe's largest nuclear plant
There are no mines at the cooling pond of the Zaporozhye NPP, the UN watchdog has said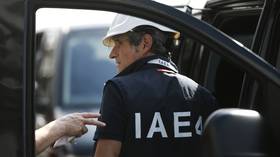 Rafael Mariano Grossi, the director-general of the International Atomic Energy Agency (IAEA), denied on Tuesday claims made by the Ukrainian government that the cooling pond of the Zaporozhye Nuclear Power Plant (ZNPP) had been rigged with explosives.
"The IAEA is aware of reports of mines having been placed near the cooling pond. No mines were observed at the site during the Director General's visit, including the cooling pond," Grossi said in a report on the situation at Europe's largest atomic power facility.
There were mines outside the perimeter and "at particular places inside," which the security personnel at ZNPP explained were for defensive purposes, the IAEA head said.
"Our assessment of those particular placements was that while the presence of any explosive device is not in line with safety standards, the main safety functions of the facility would not be significantly affected," added Grossi.
His report comes after claims by Ukrainian President Vladimir Zelensky and his aide Mikhail Podoliak that Russia had prepared a "terrorist attack" on the facility it has controlled since March 2022
Ukrainian intelligence has received information that Russia is planning "a terrorist attack with radiation leakage," Zelensky said in a tweet on Thursday morning, adding that "the world has been warned, so the world can and must act."
Podoliak claimed that Russia was "considering a large-scale terrorist attack at the ZNPP to stop the Ukrainian counteroffensive and create a depopulated sanitary gray zone," and was mining the cooling pond, demanding that "the global world" should announce consequences "not tomorrow. Today."
Zelensky's claims are "yet another lie," Kremlin spokesman Dmitry Peskov said on Thursday, noting that Russia has fully cooperated with the IAEA. Moscow has insisted that Kiev was behind the destruction of the Kakhovka dam earlier this month, which the IAEA described as a potential threat to the ZNPP's supply of cooling water.
According to Russia, Ukraine has also repeatedly attacked the ZNPP, including an attempted commando raid in September 2022, as the IAEA mission was en route to the site. The most recent attack was on June 9, when Russian air defenses reported bringing down three drones headed for the plant.
The Zaporozhye Nuclear Power Plant has six reactors and is located in Energodar, on the right shore of the Dnieper River. It is currently operated by Rosatom in standby mode. The surrounding region officially became part of Russia last September.
You can share this story on social media: