Ukraine has lost hundreds of pieces of Western-supplied hardware – Putin
Up to 30% of the heavy equipment sent to Kiev has been destroyed by Russian troops, the president has said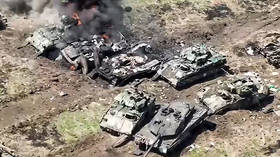 Ukrainian forces have already lost dozens of tanks and hundreds of armored vehicles in their attacks on Russian positions, President Vladimir Putin told war correspondents on Tuesday. Kiev's troops have so far failed to achieve success on any of the fronts in their long-touted counteroffensive, he added.
Russian positions have faced attacks from four major directions, the president said during a meeting at the Kremlin. He added that Ukrainian reserves, including those equipped with Western-supplied military hardware, had also been thrown into the fray.
However, the offensive has led to massive losses in personnel and materiel for Kiev, Putin stated. Ukraine has lost "at least 160 tanks and 360 armored vehicles," and the military hardware destroyed by Russian troops accounts for between 25% and 30% of all Western military equipment supplied to Ukraine, the president estimated.
"There are also losses that we do not see, which are a result of long-range high-precision strikes," Putin said, claiming that Ukraine's actual losses are likely higher than the figures he had given. Regarding personnel, Putin said Russian casualties were "ten times lower" than among Ukrainian forces.
The president also reiterated that the "fundamental goals" of the Russian military operation in Ukraine remain the same, and that the Kremlin does not plan to change them. At the same time, Putin maintained that Moscow "sincerely sought" to reach an agreement with Kiev and resolve the differences involving former southeastern Ukrainian regions, which have since joined Russia following a series of referendums in autumn 2022.
After long touting a counteroffensive, Ukraine finally launched its operation last week, although thus far it has apparently failed to bring about any dramatic changes on the front line.
The Russian Defense Ministry has reported that Ukrainian forces have lost dozens of pieces of military hardware in their attacks, including tanks and armored vehicles supplied by the West. The ministry has also published videos showing Russian forces successfully striking Ukrainian heavy equipment.
On Tuesday, one such video showed Russian soldiers seizing a German-made Leopard 2 main battle tank and US-produced Bradley infantry fighting vehicles. Kiev has demanded more tanks from Berlin amid the intense fighting.
You can share this story on social media: