Zelensky confirms Ukrainian 'counteroffensive actions' underway
The president declined to reveal details of the much-anticipated operation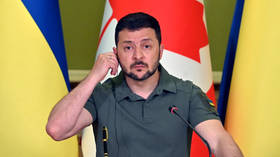 Ukrainian President Vladimir Zelensky has confirmed that Kiev's long-awaited counteroffensive against the Russian forces has begun.
During a joint press conference with Canadian Prime Minister Justin Trudeau in Kiev on Saturday, Zelensky was asked to comment on recent statements by his Russian counterpart Vladimir Putin.
On Friday, Putin said "We can state with absolute certainty that this Ukrainian counteroffensive has begun." He added that attacks by Kiev's forces had been ongoing across the frontline since the start of the week, but the Russian military was able to repel them. According to the Russian leader, the Ukrainian side has been suffering far heavier casualties than the "classic" three-to-one ratio often expected during offensive operations.
Zelensky said he found it "interesting" that Putin had addressed the issue of the Ukrainian counteroffensive.
"Counteroffensive and defensive actions are taking place in Ukraine. At what stage they are [at], I won't say in detail," he told journalists.
The Ukrainian leader also suggested that Putin or certain Telegram channels should not be trusted when it comes to news about the conflict.
"I think one should trust our military. I trust them, and I'm in daily contact with the commanders… All of them are in a positive mood. Tell that to Putin," Zelensky said.
Kiev was expected to launch a major counteroffensive in spring aimed at winning back all territories lost to Russia. But the operation had been constantly delayed, with officials in Kiev complaining about bad weather, a lack of ammunition, and the reluctance of Ukraine's backers in the US and EU to supply warplanes.
However, over the past seven days, attacks by the Ukrainian military – with the use of Western armor supplied especially for the counteroffensive – on fortified Russian positions have greatly intensified.
On Saturday, the Russian Defense Ministry reported repelling several attempts to advance by Ukrainian forces in Russia's Zaporozhye Region and the Donetsk People's Republic. Four of Ukraine's German-made Leopard 2 tanks and five US-supplied Bradley fighting vehicles were destroyed in these areas, the ministry said. It also put Kiev's personnel losses during the recent fighting at around 600.
The officials in Kiev have so far been reluctant to acknowledge that the counteroffensive has been underway. "The Ukrainian defensive/offensive actions have not even started yet," Mikhail Podoliak, a top adviser to Vladimir Zelensky, claimed on Tuesday.
You can share this story on social media: