Putin comments on Ukrainian counteroffensive
Kiev's long-anticipated push to retake lost territories has begun, the Russian president says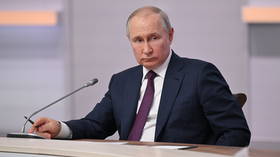 The much-anticipated Ukrainian counteroffensive has started, Russian President Vladimir Putin has said. He cited the deployment of Kiev's strategic reserves as a telltale sign of the operation.
"We can state with absolute certainty that this Ukrainian counteroffensive has begun, and the use of strategic reserves points to it," Putin said at a press conference on Friday.
The president noted that particularly heavy fighting has been ongoing for five days, with Russian troops managing to hold their positions.
He also claimed that the Ukrainian military has suffered far heavier casualties than the "classic" three-to-one ratio often expected during an offensive.
However, Kiev has still retained its offensive capabilities, Putin said. He added that he expected Russian commanders to "assess the situation realistically" and act accordingly.
The Russian leader also acknowledged that Moscow's troops are facing shortages of modern weapons, and expressed hope that the country's military industry will soon be able to satisfy growing demand.
Putin attributed the purported failure of the Ukrainian counteroffensive to the effectiveness of the armaments already at the disposal of Russian forces.
On Thursday, Russian Defense Minister Sergey Shoigu revealed that the Ukrainian military had tried to break through Russian defenses in Zaporozhye Region. However, this attempt was thwarted by pre-emptive artillery and aerial strikes, the official claimed.
According to the minister, Kiev's forces suffered losses running into the thousands as a result.
On Friday, Moscow stated that Ukraine had lost up to 1,240 troops and 39 tanks in just 24 hours. Dozens of armored vehicles and artillery units, including ones provided by Western countries, were also destroyed, Russian military officials claimed.
Citing anonymous senior US officials, CNN also reported that the Ukrainian military had sustained "significant" casualties this week.
The outlet's sources described "greater than expected resistance from Russian forces."
You can share this story on social media: