Two dead as fighter jet crashes into house in Siberia
Both pilots were killed, but the governor says there were no civilian casualties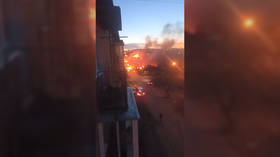 Russia's Emergencies Ministry reported on Sunday that two pilots died when a Su-30 fighter jet crashed into a two-story house in the southern Siberian city of Irkutsk. Local Governor Igor Kobzev said there were no other casualties.
A ministry statement explained that the aircraft was conducting a test flight when it crashed. Irkutsk is a major centre for Russia's avitation industry, and a production hub for Sukhoi military planes.
The plane nosedived into a two-story building, causing a blaze which spanned some 200 square meters, the governor wrote on Telegram.
Around 150 homes in the area have been left without electricity due to damaged power lines, with repairs currently underway, Kobzev said.
The governor also promised that the owners of the affected buildings will receive compensation from the government.
The Emergencies Ministry said firefighters, who swiftly arrived on site, were able to promptly localize and extinguish the blaze.
The Investigative Committee has clarified that the Su-30 was on a test flight, with no ammunition on board.
An informed source told RT that the plane had been circling around Irkutsk for around 20 minutes before going down.
Another fighter jet had been sent up to figure out what the problem was. When it approached the Su-30 it became clear that both pilots were unconscious, the source said. "The situation couldn't be fixed and the plane crashed into a residential area," he added.
The incident saw one home completely destroyed and another partially damaged, according to the source.
It is the second such incident in Russia this week, following a disaster in Krasnodar Region on Monday, which left 15 people dead and 26 injured.
You can share this story on social media: