Almost two months after disputed vote, Belarusian police deploy water cannon, make arrests at Minsk anti-Lukashenko rally VIDEOS)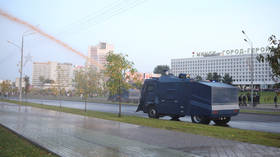 Almost two months after the country's disputed presidential election, protests in Belarus continue. On Sunday, police used a water cannon to disperse a large crowd who again came out onto the streets of Minsk to voice their anger.
The marchers were demanding the resignation of longtime President Alexander Lukashenko, who they insist rigged the August contest. Arrests were also made.
But the water cannon wasn't enough to scare the demonstrators away. They reportedly retaliated against the vehicle and managed to partially neutralise it by removing some parts.
This reportedly caused the truck to malfunction as it was filmed sending a torrent of liquid vertically into the air, with the water landing on police officers nearby.
There has so far been no official data on the arrests. But a local human rights group said that some 70 people were detained during the protests in Minsk and several other cities.
Sunday's rally in the capital again saw a huge turnout, with witnesses estimating the crowd at around 100,000, according to Russian news agency Interfax. The population of Minsk is around two million.
Thousands have been protesting in Minsk and other cities every weekend since the election on August 9. According to the official count, Lukashenko won the vote by a landslide, but the opposition contested the result, insisting that the election was rigged.
Also on rt.com
WATCH as police water cannon turns into FOUNTAIN after reportedly being 'modified' by Belarusian protesters
Belarusian authorities have responded to public outrage with mass arrests, with law enforcement also facing accusations of excessive use of force and mistreatment of detainees.
Think your friends would be interested? Share this story!