Over 70 people evacuated from hospital in Russian Far East after roof catches fire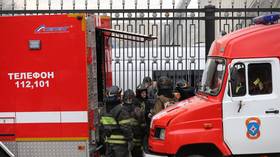 Dozens of patients and medical personnel had to be evacuated after a fire broke out at a hospital in Russia's Far East on Monday morning. There have been no reports of casualties or injuries from the blaze.
The blaze started on the third floor of the facility in Partizansk, a town 170 kilometers east of Vladivostok, after the roof of a building housing an admissions ward caught fire, the local emergencies ministry reported.
A total of 74 people have been evacuated to safety, including 56 patients and 18 staff. Two of the patients, who had been in serious condition prior to the blaze, were taken to another hospital accompanied by critical care specialists.
Other sick people remain on the Partizansk City Hospital grounds, but have been transported to another compound while firefighters are putting out the flames. The hospital is not involved in treating coronavirus cases, and there are reportedly no patients who tested positive for Covid-19 in the hospital at the moment.
The fire spread to an area of 300 square meters before it was contained at around 9:40 a.m. local time. It is so far unclear what could have triggered the blaze. A preliminary inquiry has been launched into the incident, according to local prosecutors.
Also on rt.com
Fire erupts at Saint Petersburg Covid-19 hospital after ventilator malfunctions, 5 dead
Primorsky Krai, where Partizansk, a town of 37,000 people, is located, is one of the Russian regions least affected by Covid-19. A total of 1,646 people have tested positive for the coronavirus and 51 have died.
The Monday mishap follows a spate of tragedies that saw fires ravaging several Russian hospitals, including one in Moscow and another in Saint Petersburg. Both incidents were blamed on faulty artificial lung ventilation machines of one particular type, whose usage has been suspended indefinitely after the fires.
Think your friends would be interested? Share this story!