9 dead after huge blaze traps miners in Russia's Urals (VIDEO)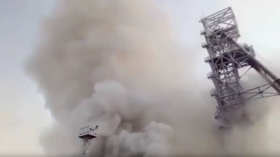 Nine bodies have been pulled from a mine near the city of Solikamsk in Russia's Urals, with giant plumes of smoke filmed rising from the facility. A large blaze trapped the people deep underground on Saturday.
Footage from the scene showed thick plumes of grey smoke erupting from the mine shaft.
The blaze has been contained but not put out completely, the authorities said some 7 hours after the fire ripped through the mine.
The incident occurred at 12pm local time, according to the mine's owner, the Uralkali fertilizer producing company. The blaze erupted during construction works at the mine when temporary flooring caught fire, the emergency services told TASS. Extremely high temperatures were preventing rescuers from going deeper and reaching the miners earlier.
READ MORE: Giant blaze rips through Google's office in 'China's Silicon Valley' (VIDEO)
It took rescuers several attempts to finally discover the bodies. The operation concluded on Sunday morning with no survivors.
While fire crews are battling the blaze, Russia's Emergencies Ministry has deployed additional forces of specially trained mine rescuers from nearby regions. The local prosecutor's office has launched a criminal probe, suspecting fatal safety rules violation.
Think your friends would be interested? Share this story!
You can share this story on social media: