Crab & caviar: Russian gang lord behind massacre of 12 lived high life in high-security prison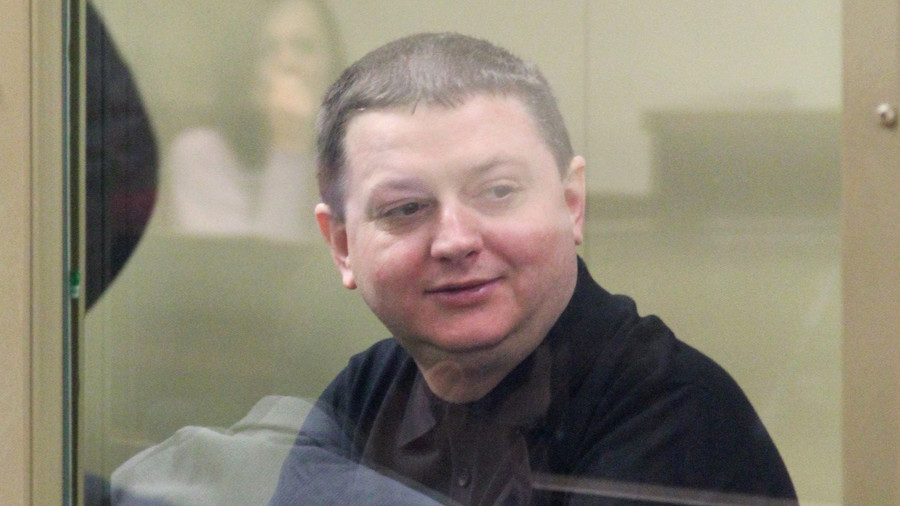 Jailed for organizing brutal murders and extortion, a Russian crime lord lived the high life behind bars, as photos show him indulging in crab meat and caviar while holding banquets with his buddies.
He wasn't nicknamed 'Zlodey' (the Villain) for nothing. Vyacheslav Tsepovyaz is one of the most ruthless thugs in Russia.
In 2010, his gang dispatched a death squad to kill a farmer in the southern Krasnodar Region. The thugs entered the man's home and murdered him and his family. Neighbors were visiting him at that time, so they killed them, too, and then torched the place. In all, 12 people were butchered that night, including four children.
The hideous crime so shook the nation that the name of the small town the unlucky farmer lived in – Kuschevskaya – became a household name for rampant crime.
The gang members were apprehended shortly thereafter. The public was shocked to learn that they had terrorized the area for decades, acting unhinged and committing crimes with near-total impunity.
The gang leader was sentenced to life in prison (the death penalty is de facto banned in Russia) and later died behind bars. His close associate, Tsepovyaz, who facilitated the murders and paid the killers, got nearly 20 years in jail – a strict-regime penal colony in the Amur Region of Russia's Far East.
Photos recently published in the media show that the term 'strict regime' actually means the opposite when dealing with a man of refined tastes such as Tsepovyaz. Steel bars didn't come between him and his gourmet meals and parties, as one photo captured him enjoying crab meat and red caviar, both local delicacies.
In another photo, he is seen smiling, sitting in front of a row of juicy kebabs.
Ранее СМИ опубликовали снимки, на которых осужденный на 19 лет по делу цапков убийца Цеповяз, позирует в тюремной робе с мобильным телефоном в руках, а на столе у него крабы, шашлык и красная икра. Материалы проверки передали в следственные органы. pic.twitter.com/r8vC5dTOJA

— Виктор Иммель (@Novoorskij) November 7, 2018
Some pictures show him having what appear to be banquet parties with friends, sporting smartphones with internet access. These things are not only strictly forbidden but effectively blur the line between prison and hotel.
How did a notorious mobster like Tsepovyaz get away with all this luxury? His wife, Natalya, was sending him money. In fact, she claims to have sent him up to 3 million rubles (US$45,400) a year.
"Yes, we were talking. He was calling me, sending the credit card numbers," she told Komsomolskaya Pravda.
Natalya and Vyacheslav are now divorced, but when they still were a couple, the loving wife sent her inmate husband money not only to order expensive food but to pay "hefty sums" for dentistry and even to buy bees and beehives – beekeeping was his prison hobby.
The crime lord's legal team believes that the photos may have been leaked online in connection with the ongoing court battle between former spouses over various assets. Speaking to Interfax news agency, his lawyer said the damning pictures were likely dumped online to generate negative buzz around Tsepovyaz and to "influence the judge's decision."
The correctional services say they uncovered Tsepovyaz's leisure activities last year. The ensuing probe led to several correctional officers being "disciplined," Deputy Director of the Federal Penitentiary Service Valery Maksimenko told Moskovsky Komsomolets newspaper. He also said the pictures of Tsepovyaz's escapades are from 2015.

"What can I say – even in the remotest regions, sometimes it's hard to avoid corruption, especially if a convict, who conspires with the officials, has the gift of persuasion and – what's important – crazy amount of money."
The Investigative Committee, meanwhile, has started its own probe following the scandal. The committee's chief, Aleksandr Bastrykin, called on investigators to thoroughly check the prison and "immediately press criminal charges" if necessary.
Like this story? Share it with a friend!
You can share this story on social media: