Starving children face 'imminent risk of death' due to Saudi assault on Yemeni city, UNICEF warns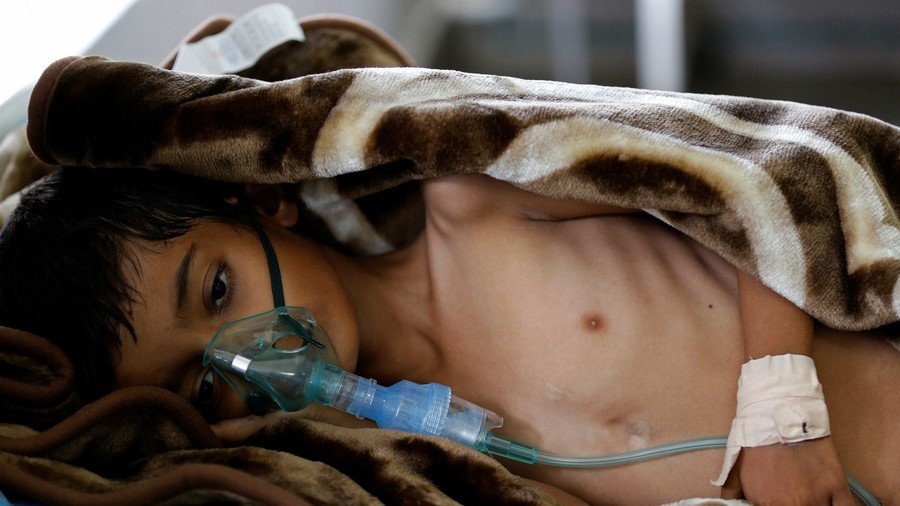 The Saudi-led coalition's attack on the Yemeni port city of Hodeidah could have catastrophic consequences for civilians, especially malnourished children in urgent need of care, UNICEF has warned.
Heavy bombings and gunfire have already impeded access to Al Thawra hospital, a medical facility that provides much-needed care to children caught up in the fighting, the United Nations International Children's Emergency Fund (UNICEF) said in a press release.
Hodeidah and its neighboring governorates account for approximately 40 percent of the 400,000 children in the country who suffer from serious malnutrition, and some of the sickest are taken to Al Thawra for urgent care. Children being treated at the hospital's intensive care unit now face "imminent risk of death," according to the aid group.
UNICEF also warned that "the toll in lives could be catastrophic" if Hodeidah's port – through which up to 80 percent of Yemen's humanitarian supplies, fuel and commercial goods are delivered – is destroyed, damaged or blockaded by Saudi Arabia or its allies.
The group called on all groups to cease hostilities and respect their obligations under international law. The statement comes as the Saudi-led coalition has intensified airstrikes on the region, according to local media.
The West has played a central role in the humanitarian disaster unfolding in Yemen, Richard Stanforth, Oxfam UK's regional policy officer for the Middle East, told RT in a recent interview.
"We have 14 million people starving," Stanforth said. "British, French, American governments are all behind this, they are all supporting this war."
He also accused the Saudi military of attacking water infrastructure, hospitals, and warehouses that store food and humanitarian aid. According to Stanforth, Riyadh knows the locations of Oxfam's operations in Yemen, but still persists in targeting the group and organizations like it.
Although the humanitarian disaster in Yemen has gone largely overlooked in Western media, harrowing photos of a now-deceased seven-year-old published by the New York Times put a human face on the terrible suffering caused by the Saudi-Arabia led bombing campaign.
Think your friends would be interested? Share this story!
You can share this story on social media: