Putin clears first stage in 2018 presidential race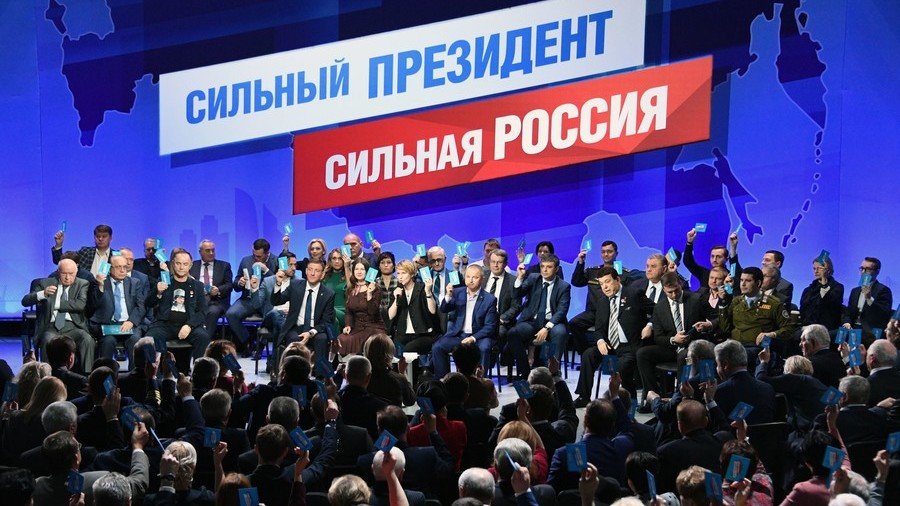 A broad group of Russian politicians, activists and celebrities held their first convention as backers of incumbent president Vladimir Putin's candidacy in the 2018 presidential race.
The initiative group that backs Putin's candidacy was formed earlier this month by the parliamentary majority party United Russia, the centrist public movement All-Russian Popular Front and the Russian Public Chamber. The overall strength of the group is over 600 people and it includes many well-known personalities, such as Olympic champion fencer Sofia Velikaya, head of the Russian Ballet Academy Nikolai Tsiskaridze, director of the State Hermitage museum Mikhail Piotrovsky, chairman of the Russian Union of Industrialists and Entrepreneurs Aleksandr Shokhin, word-famous pianist Denis Matsuyev, MMA star Fedor Emelianenko and others.
The RBC news site has quoted an unnamed source "close to the Kremlin" as saying that the main condition for inviting people to the initiative group was their personal acquaintance with Putin.
The group will include the head of the parliamentary party Fair Russia, Sergey Mironov, and about 15 top party officials. Fair Russia describes itself as an opposition to United Russia, but its elections convention earlier this week voted not to propose any own candidates and back Putin, whom Mironov described as "the only Russian socialist."
Russia's Green Party also pledged this week to support Putin's candidacy, and praised the incumbent's input in solving environmental issues.
Putin himself did not attend the convention on Tuesday. Putin's press secretary Dmitry Peskov told reporters that this was due to the president's busy schedule, and added that the law did not require the future candidate's attendance at the first meeting of supporters. As journalists attempted to clarify on what day Putin plans to submit his papers to the Central Elections Commission, which must be done in person, Peskov refused to answer the question.
Putin announced his intention to seek another presidential term in 2018 on December 6 this year, and on December 14 he said that he would run as an independent with the support of various political parties and ordinary citizens. This means that the incumbent will have to collect and present to the Central Elections Commission signatures of 300,000 of his supporters, collected all over Russia.
You can share this story on social media: