Putin drafts bill for expansion of Russian navy base in Syria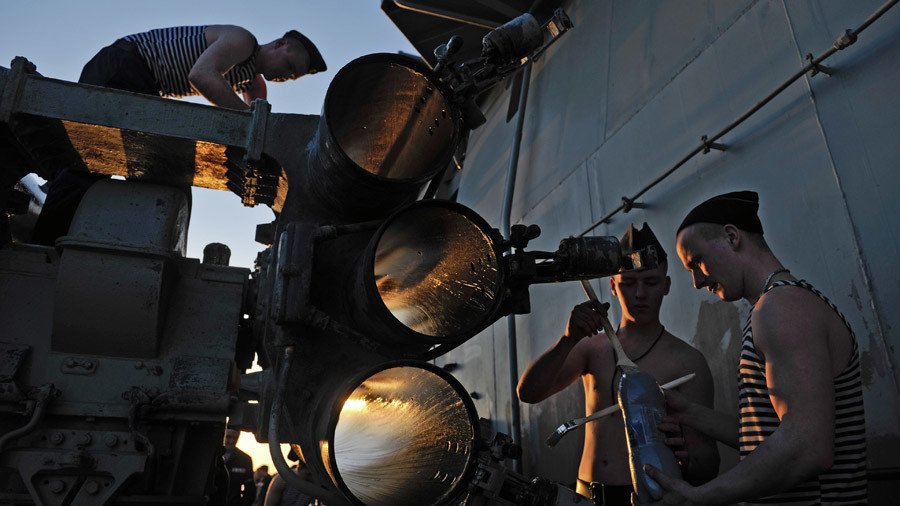 Russian President Vladimir Putin has submitted to the lower house of Russia's parliament an agreement to transform the Tartus navy refueling facility in Syria into a fully-fledged navy base, capable of harboring nuclear-powered ships.
The development would be for a term of 49 years and would grant the Russian Navy access to the territorial waters and to various ports of the Syrian Arab Republic. The revamped Tartus navy base would be able to accept up to 11 ships at once, including nuclear-powered vessels.
The document also acknowledges that military and technical cooperation between Russia and Syria is strictly defensive in character and does not target any other nations.
Former chief of staff of the Russian Navy, Admiral Viktor Kravchenko, told Interfax that the expanded base would contribute to the navy's "operative capabilities" in the Mediterranean Sea and Middle East as a whole. He also said that the developed navy base would be much larger than the current facility, which is used for refueling and technical support of ships.
"The base should be stretched over a decent tract of land, with all necessary security and defense facilities. The base can accept all ships, up to missile cruisers, allowing them to replenish all supplies and give some rest to the crew," the admiral said.
Earlier, Interfax had quoted an unnamed "informed source" as saying that Russia planned to build two new piers in Tartus, that would accommodate large ships, as well as a complex of residential and office buildings.
Lower House MP Dmitry Belik told RIA Novosti that the Russian navy group that is currently stationed off the coast of Syria would maintain its current strength of over 10 combat ships and support vessels.
"Russian ships are a sea-front, created for fighting international terrorism. We cannot exclude that Islamic State terrorists would attempt a landing operation and, in such situation, the Russian navy remains a powerful containment factor. This is why the ships will remain in the Mediterranean as part of a constant combat group," Belik told reporters.
Earlier this week, President Putin visited Khmeimim Airbase in Syria and ordered the withdrawal of a "significant part" of the Russian military contingent. The order followed the defeat of "the most battle-hardened grouping of international terrorists" by the Syrian Army with support of the Russian Air Force in the space of two years, the president noted.
You can share this story on social media: