Liberal presidential hopeful Yavlinsky says victory is not a priority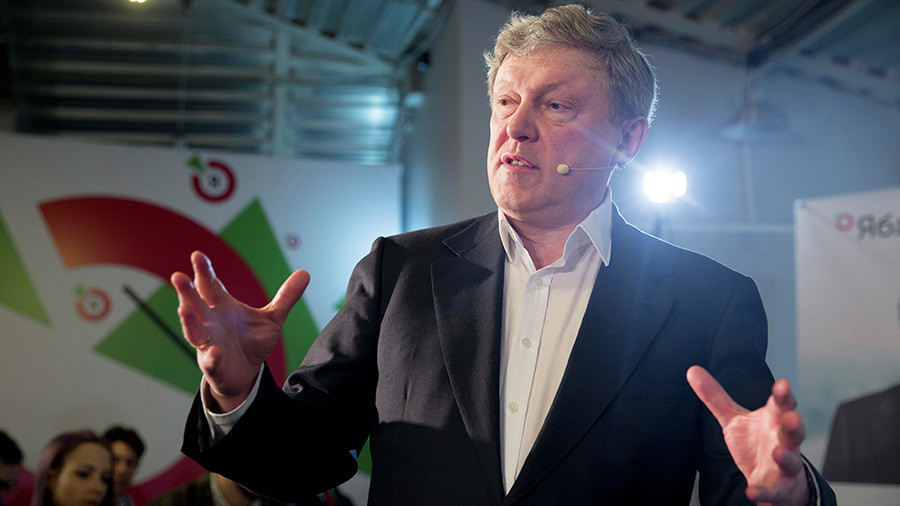 Grigory Yavlinsky, a prospective presidential candidate and co-founder of the liberal party Yabloko, has said that his main goal in running for the office would not be victory, but to 'change Russian politics.'
"A change of politics is my priority. Today, in November 2017, our real goal should be a change in politics and we should somehow make millions of people vote for this change," Yavlinsky told reporters at a press conference on Thursday.
"In December there will be some other goals, like collecting supporters' signatures, registration as a candidate, and the presidential campaign itself. Then we will talk about the vote percentage," the politician added.
"Even if some other candidate unexpectedly wins this election, the fate of my proposals would depend on how many people voted for me. The candidate who gets elected would have to heed these people's will. This is the way for the people to show their attitude and achieve some changes in politics," Yavlinsky said.
Grigory Yavlinsky is a veteran politician and a co-founder of the liberal political party Yabloko. He was one of the first politicians to announce his intention to run in the 2018 presidential elections – he did so as early as February 2016. Back then, Yavlinsky assured his party comrades and reporters that his chances of victory were very real, dismissing as unimportant the fact that incumbent President Vladimir Putin enjoyed an approval rating of well over 80 percent.
"I make this conclusion precisely because Vladimir Putin's rating is exceptionally high today. From my point of view, the situation in the economy looks so bad that, in a year, early elections could become a reality – Putin will want to have the elections ahead of term in order not to wait for the situation to deteriorate further… So far, he has never held elections in a situation of downward trends," Yavlinsky said.
In March this year, he presented his elections program, which is built around the promise to grant every Russian citizen a free one-acre plot of land on which to build a home.
Yavlinsky already participated in Russian presidential elections in 1996 and 2000, getting 7.35 and 5.8 percent of votes, respectively. He also registered as a candidate in the 2012 presidential elections, but his name was removed from the ballot before the polls because a large share of supporters' signatures provided by his headquarters had been recognized as invalid.