Veteran Russian liberal Yavlinsky announces presidential ambitions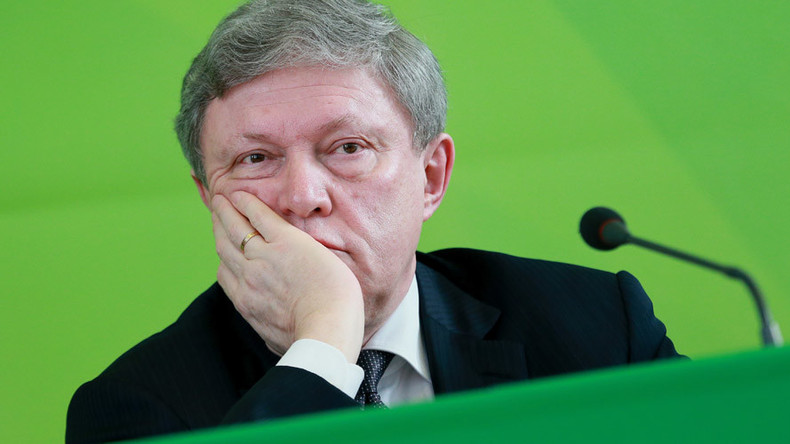 One of the oldest political parties in Russia, the leftist liberal Yabloko (Apple) announced that it would put forward its founder Grigory Yavlinsky as a candidate at the forthcoming presidential elections in 2018.
Yavlinsky's candidacy was proposed to the Yabloko convention by the party leader Emilia Slabunova. She noted in her address that the move was not premature, because Yabloko sees as its major objective the change of the existing political system in the country and this requires victory at the presidential polls, as the power of parliament in Russia is currently weaker than that of the president.
Slabunova added that in order for the presidential campaign to be successful Yabloko needed the unification of all "democratic forces," but she did not name any particular parties or movements. She also warned that if the existing Russian political system remains after the 2017 presidential election this could cause a major civil conflict.
READ MORE: Anti-Maidan activists blast Yabloko party over US-funded protests

Only one political party – the Party of People's Freedom, or Parnas - has so far agreed to throw some support behind Yavlinsky's presidential candidacy, but only on condition that Yabloko agrees to form a single list with Parnas for the forthcoming State Duma elections. Yabloko has already rejected that proposal.
Yabloko has also ruled out any cooperation with Mikhail Khodorkovsky, who intends to influence the elections in Russia by supporting select candidates through his loose and unregistered movement Open Russia.
READ MORE: Liberal party Yabloko rules out any cooperation with Khodorkovsky
The possibility of Grigory Yavlinsky running for presidency in 2018 emerged in July last year as Yabloko's political committee announced that the party would back its founder "as an alternative to Vladimir Putin" and a candidate "capable of uniting all voters with democratic leanings." Yabloko leaders noted in their release that despite extensive experience in politics Yavlinskiy managed to keep an untarnished reputation and remain free of any associations with oligarchy or corruption.
Yavlinsky has already tried himself in Russian presidential races. In 1996, he got 7.4 percent of the votes and in 2000, 5.8 percent. He also registered as a candidate in 2012, but the authorities removed him from the polls after a large share of supporters' signatures provided by his headquarters were deemed invalid.
In the 2011, parliamentary poll, Yabloko garnered over 3 percent of votes. That didn't grant it any seats, but gave some procedural preferences for the 2016 elections.