Liberal party Yabloko rules out any cooperation with Khodorkovsky
Published time: 18 Feb, 2016 14:41
Edited time: 22 Feb, 2018 09:20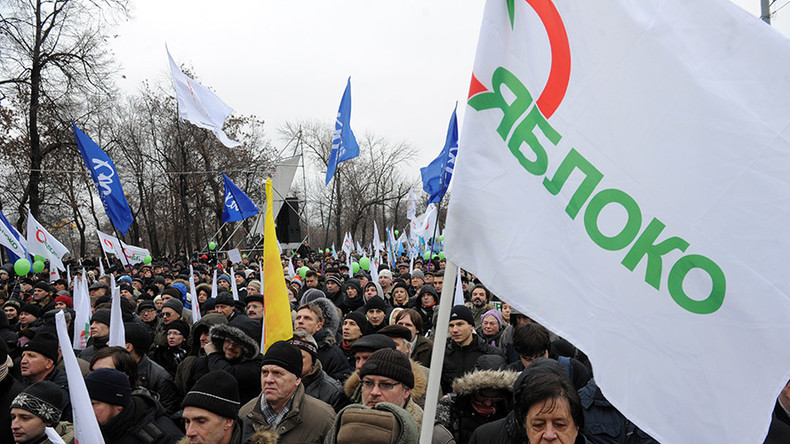 One of Russia's oldest political parties, the liberal Yabloko, said it will not participate in the Open Elections project launched and sponsored by Mikhail Khodorkovsky, or any of the former oligarch's other projects.
"Yabloko and its members do not intend to accept - and are even less likely to request - financial, organizational or any other support from Mikhail Khodorkovsky's structures during the approaching State Duma campaign," read the letter released by Yabloko's press service on Thursday.
The document also states that the party can neither confirm nor deny mass media reports that some high-profile Yabloko members were seeking cooperation with Khodorkovsky's 'Open Elections' project, because the names of these people remain unknown.
READ MORE: New rules for next Russian parliamentary election
Yabloko emphasized that the party considered Khodorkovsky's political views unacceptable, especially in the part the concerned the 'oligarchic' system of merger between big business and state power. However, the liberals also dismissed Khodorkovsky's recent attempts to discuss revolution and a leftist turn in Russia as unacceptable.
Earlier this week, representatives of the Open Elections project announced that they had many requests for assistance from major Russian political parties, including those represented in the Duma (which Yabloko is not). The heads of all parliamentary parties dismissed these claims as completely untrue and suggested that they were part of some complicated elections spin.
The Open Elections project was launched on January 22 this year by representatives of the Open Russia movement. The group was founded by Khodorkovsky in 2001, when he was among the richest and most-influential people in the country.
After Khodorkovsky was tried and sentenced for large-scale tax evasion, the organization ceased to exist, but when the former Yukos boss was pardoned, released and allowed to leave the country in December 2013, Open Russia was relaunched as a network structure aiming to assist the "Europe-oriented part of Russian society."
READ MORE: Searches conducted in homes of Khodorkovsky's Open Russia movement members

In mid-2015, the mass media reported that the Justice Ministry intended to put Open Russia on the list of undesirable foreign organizations, which would make it illegal and punishable for Russian citizens to cooperate with the group in any way. However, the ministry's intention became complicated by the fact that the modern-day Open Russia was never registered as a legal entity.