Most Russians support continuing Syria aid after war ends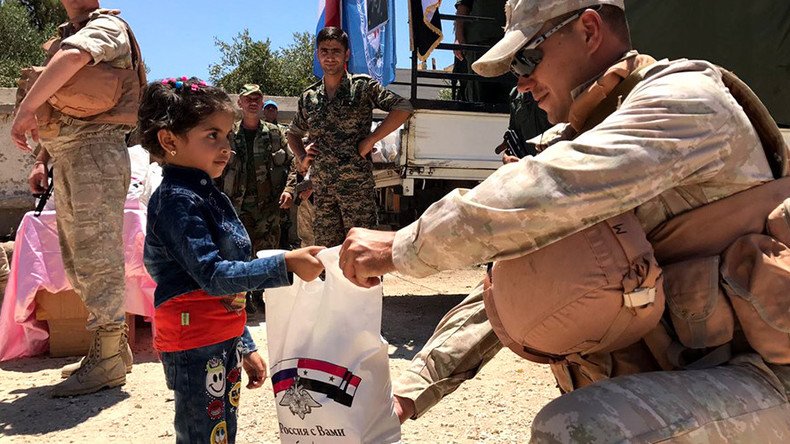 Almost three-quarters of Russians believe their country should continue helping Syria after the armed conflict there is over, according to a recent poll.
Research conducted by the state-run VTSIOM agency showed that 73 percent of Russians consider it necessary to continue helping Syria after the end of the war. An even larger share of respondents – 75 percent – said they would like to see Russia continue sending humanitarian aid to Syria.
Forty-five percent said that Russia's main ally in the Middle East should receive military-technical help and 44 percent backed diplomatic support. Just under a quarter – 22 percent – said that simple monetary aid would be preferable.
Nineteen percent of Russians said they were against helping Syria in any way.
A different poll, conducted by independent public opinion research center Levada in early September, showed that 49 percent of Russians thought that the government should end the counter-terrorist operation that the Russian Air Force is conducting in Syria.
Thirty percent said they support the continuation of the strikes, while 22 percent said they did not have a solid opinion on the issue.
The current level of support for the Syrian operation is down from 52 percent approval in October last year.
Thirty-two percent of those who took part in the Levada poll said they feared the escalation of the conflict and it becoming the "new Afghanistan" for Russia. Forty percent considered such developments extremely unlikely, while 11 percent completely ruled them out. Ten percent said they could not answer the question, while 7 percent said they were not interested in such news.
Russia first deployed an air force contingent in Syria in 2015, after receiving a request for military help from the Syrian government, which continues to battle Islamic State (IS, formerly ISIS/ISIL) and affiliated terrorist groups. Russian warplanes began launching airstrikes on terrorists in Syria on September 30, 2015. Their work has aided the Syrian military in achieving considerable success in driving jihadist forces out of the country.
On March 14, 2016, President Vladimir Putin ordered a partial withdrawal of Russian forces because they had achieved all of the objectives that had been initially set for them.
In October of the same year, the Russian parliament ratified an agreement which Putin signed to keep the Russian Air Force base in Syria there on an indefinite basis. Russia has also deployed special forces and anti-aircraft systems to the area to protect the base from attack.
You can share this story on social media: