Most Russians reject US criticism of air force's anti-terrorist operation in Syria – poll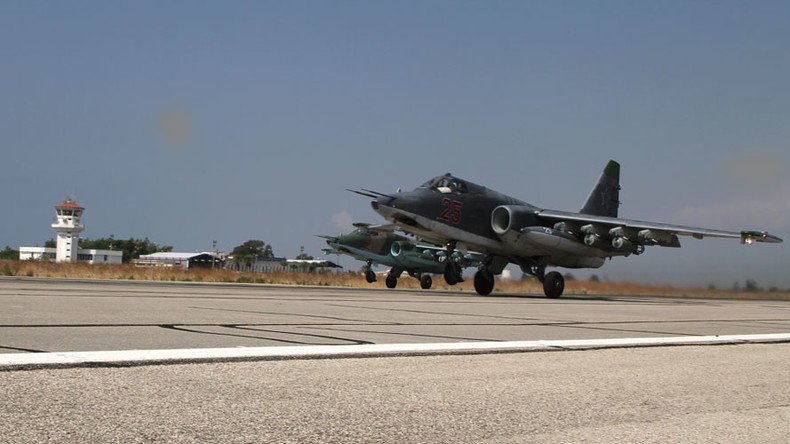 A clear majority of Russian citizens believe that Western criticism of the air force's counter-terrorism operation in Aleppo, Syria lacks any real grounds and is merely an attempt to apply additional pressure on their country.
A recent public opinion poll conducted by the state-run agency VTSIOM shows that 73 percent consider criticism of the actions of the Russian Air Force in Syria as ungrounded and prejudiced. Only six percent said the allegations of wrongdoing on the part of the Russian military have some basis in reality.
READ MORE: 'Agony of departing administration': Russian senate leader blasts US position on Syria

At the same time, 53 percent of those polled said they could not predict the consequences that the Syrian operation would have for Russia. About eight percent said they expected the conflict to lead to Russian involvement in a wider war, and six percent said that these actions would definitely increase tensions between Russia and western nations.
Interest in current developments in Syria remains high – 67 percent of the respondents said that they were following the latest news from Syria (against 68 percent a year ago).
Fifty-one percent said the current stage of the Syrian crisis can be described as a full-fledged war, with 10 percent seeing it as "unrest," and six percent regarding it as a counter-terrorism operation.
When asked about their perception of the latest trends in the situation, 33 percent said that they saw and expected no changes, 24 percent said that tensions were increasing and they expected an escalation of the conflict, with only 15 percent saying that they saw some improvements in the situation.
A similar poll conducted a year ago by the independent Levada Center showed that over 70 percent of Russian citizens supported the air operations against ISIS terrorists in Syria, and almost a half of them agreed that it was right for Russia to support the government of Syria's democratically-elected President Bashar Assad.
Russia first deployed an air force contingent in Syria in 2015, after receiving a request for military help from the Syrian government, which is currently battling Islamic State (IS, formerly ISIS/ISIL) and affiliated groups. Russian war planes began launching air strikes on terrorists in Syria on September 30, 2015. Their work has aided the Syrian military in achieving considerable success in driving jihadist forces out of the country.
READ MORE: 'There's no alternative': Russian UN envoy says US decision to suspend Syria contacts 'regrettable'

On March 14, 2016, Putin ordered a partial withdrawal of Russian forces because they had achieved all of the objectives that had been initially set for them in Syria.
A small group of Russian combat jets has, however, remained in Khmeimim and continues to strike terrorist positions. Russia has also deployed some special forces and anti-aircraft systems to the area to protect the base from attack.
Earlier this month, the Russian parliament ratified, and Putin signed, an agreement to place a Russian Air Force base in the Syrian Republic on an unlimited basis.
You can share this story on social media: