Pollsters trick 1 in 5 Russians into supporting imaginary candidate 'backed by Putin'
Published time: 20 Sep, 2017 10:51
Edited time: 20 Sep, 2017 22:34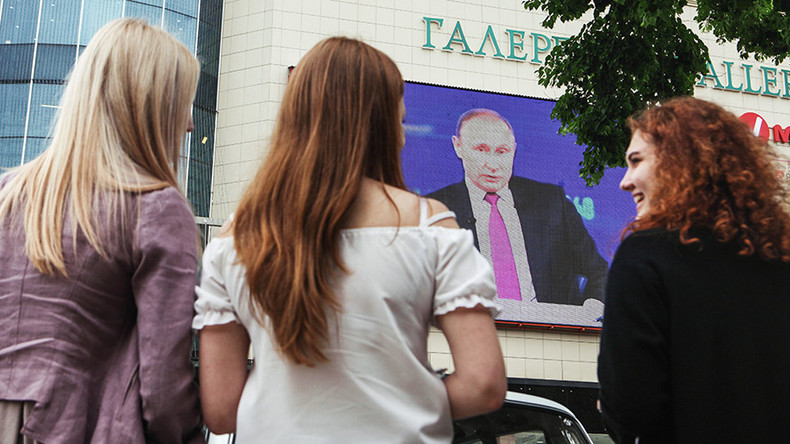 Presidential candidate Andrey Semyonov has secured the backing of almost a fifth of respondents in a recent poll – despite the fact he was invented by pollsters who wanted to check the extent of people's trust in Vladimir Putin.
On Wednesday, Russian independent Levada Center research agency released the results of its August poll in which the Russian public was asked if they were aware that President Vladimir Putin has expressed his support for Andrey Semyonov in the 2018 presidential race.
Those who answered "yes" were then asked another question – whether they personally could cast their votes for Semyonov.
The catch was that Putin has never announced his backing for Andrey Semyonov because this politician was invented by Levada experts for the purposes of their study.
Eighteen percent of respondents said they might vote for Semyonov, even though the majority – 15 percent – admitted they had never previously heard of him. Surprisingly, 3 percent of the public told the pollsters they knew of Semyonov and wanted to support him. A further 8 percent said were familiar with the candidate, but did not want to vote for him.
The majority of respondents – 63 percent – said they had heard nothing about Semyonov and therefore had no intention of casting their votes for him. Twelve percent remained undecided.
"We launched this experiment to understand the extent to which the incumbent president's authority influences the electoral preferences of Russians," Levada sociologist Karina Pipiya told Vedomosti daily.
She added that the 11 percent who claimed they had heard about Putin's support of Semyonov were not necessarily liars, but they could be either not interested in politics or used to adjusting their opinion in accordance with social norms. Pipiya also said that Levada would continue to launch similar experiments in order to learn how peer pressure and collective thinking affect the political preferences of the public.
The same poll also showed that 48 percent of respondents would vote for Putin if the incumbent president were to run again. The proportion was even higher – 60 percent – among those who said that they would definitely or most likely participate in the elections.
Three percent said they intended to support the leader of the Russian Communist Party, Gennady Zyuganov. The head of the Liberal Democratic Party of Russia, Vladimir Zhirinovsky, and an anti-corruption activist backed by the Party of Progress, Aleksey Navalny, each secured the support of 2 percent of voters. The poll also showed that Defense Minister Sergey Shoigu and the founder of the liberal Yabloko party, Grigory Yavlinsky, could count on 1 percent of the Russian public's support each.
According to Russian law, the date of 2018 presidential elections must be announced between December 7 and December 17. Election Day is widely expected to be March 18 – the anniversary of Crimea's reunification with Russia.
So far, three established Russian politicians have announced that they intend to run for the presidency – Yavlinsky, Zhirinovsky and Navalny. The latter, however, is technically barred from running under Russian law because he is currently serving a five-year suspended jail sentence that will not expire before the next election.
The parliamentary majority United Russia party has not disclosed its plans for the presidential elections. Nor has the largest parliamentary opposition party – the Communists. However, both parties have recently announced that they would hold elections conventions before the New Year holidays.
Putin has so far refused to give direct answer to questions about a potential next term, emphasizing each time that it was too early to discuss the issue. In early September, Putin explained this behavior by the fact that such announcement could paralyze all political and administrative work in the country.
"I have said it before and I can say it again – as soon as they announce election campaigns in our country, everyone immediately stops working. I know this firsthand," Putin told reporters.