Putin's approval rating at 83% in August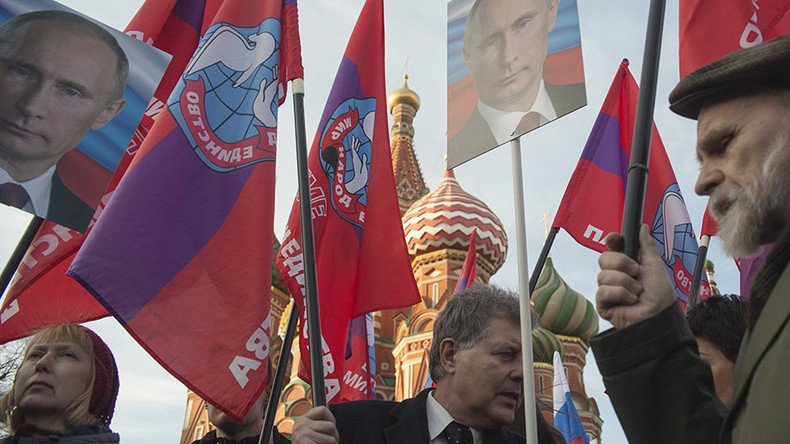 According to a recent poll, Russian President Vladimir Putin's approval rating stood at 83 percent in mid-August, while the number of people who approve of the State Duma's work dropped to under 50 percent.
The study, conducted by the independent Levada public opinion research center on August 18-22, showed that apart from the 83-percent approval rating, 58 percent of Russians say that they personally trust Vladimir Putin.
The approval rating of Prime Minister Dmitry Medvedev was significantly lower at 48 percent, with 51 percent of Russians saying that they were not satisfied with his work. The number of those who approve of the work of the cabinet as a whole was slightly higher at 50 percent.
Only 42 percent of the Russian public said that they approve of the work of The State Duma – the lower house of the Russian parliament – while 57 percent said they are not satisfied. Across the country, 52 percent of the people polled said they were satisfied with the work of their regional governors, and 46 percent said their work needed to improve.
In the same poll, Levada researchers asked people which officials and politicians they trusted the most. Vladimir Putin came in first with 58 percent, Defense Minister Sergey Shoigu was second with 30 percent, and Foreign Minister Sergey Lavrov was third with 28 percent. Respondents could give several names as an answer.
Other politicians who scored high in trust include: Liberal Democratic Party head Vladimir Zhirinovsky (13 percent), PM Dmitry Medvedev (11 percent), and Communist Party leader Gennady Zyuganov (nine percent).
A total of 14 percent of the respondents said that they did not trust any politician, and 11 percent said that they are not interested in politics.
A study conducted by state-run VTSIOM in early August yielded similar results. According to it, over 83 percent of Russians currently approve of Vladimir Putin's work as president, with 52.4 percent for Prime Minister Dmitry Medvedev, while the government as a whole received an approval rating of 57.5 percent.
VTSIOM registered Putin's highest approval rating in late 2015 – at 89.9 percent. Researchers put the surge down to popular support for the anti-terrorist operation in Syria. In the same period, Levada also reported that the amount of Russians who are happy with Putin's work as president was about 89 percent.
You can share this story on social media: